News and events round-up
Published: 23 February 2016
Some events and opportunities you might have missed...
Volunteer Teachers Needed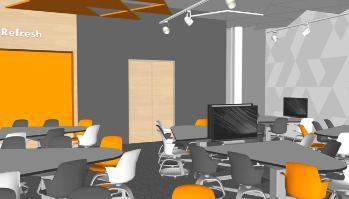 The University is looking for staff to volunteer to teach in some of the new active learning teaching rooms that will be renovated over the summer.
Active Learning Spaces allow students to engage with learning material and with one another during a lecture in ways that traditional room layouts do not typically allow.
In the new Learning & Teaching Hub, we hope to provide a number of these spaces and so in the meantime, the University is piloting layouts and technological support in some existing teaching space to learn from experiences and to make such spaces as effective as possible.
These pilot spaces will be available for the start of next academic year and so we are looking for volunteers to try out different approaches to learning and teaching in these rooms and to help us evaluate the experience for staff and students so as to inform future teaching space design.

If you are interested in finding out more or having an opportunity to teach in them please contact timetabling@glasgow.ac.uk as soon as possible and certainly by the end of April 2016.
If you would like support to help you adapt your teaching to take advantage of these spaces, please contact your Dean of Learning and Teaching.
UofG Careers finalists at National Undergraduate Employability Awards
The University of Glasgow Careers Service was a finalist at this year's National Undergraduate Employability Awards.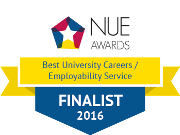 The competition saw over 400 nominations from employers, universities and students and UofG was shortlisted in the Best University Careers/Employability Service category.
Although the University of Birmingham scoped the award at a ceremony held on 12 February, Glasgow was the only Scottish university to be shortlisted for the award.
Gareth Cadwallader, Governor of University of West London, and head of the Judging Panel, said of this year's nominations: "The standard of nominations was once again outstanding across the sector. The commitment of some of the world's highest profile employers to engage with undergraduates, as well as the dedication from universities and students to the employability agenda, is extremely impressive.
Learning and Teaching Development Fund
The Learning and Teaching Development Fund (LTDF) supports developments in learning and teaching which are innovative, sustainable and transferable and contribute to delivery of the objectives of the Learning and Teaching strategy. Awards made through this scheme have greatly contributed to the enhancement of learning and teaching across the University.
The Call for Bids for Session 2016-17 is now open, and full details visit Learning and Teaching Development Fund
Expressions of Interest for Large (£3K-£20K) bids should be submitted in writing to Dr Michael McEwan and the College Dean (Learning & Teaching) by 11 March 2016. Final applications should be submitted to Mary Ramsay by 22 April 2016.
Small (up to £3K) bids should be submitted to the relevant College Dean (Learning & Teaching) by 22 April 2016.
UofG Staff Travel Provider
Clarity Travel, the University's approved Domestic Travel Provider has a new phone number - 0330 024 0347. Please see the updated Clarity Travel Contacts (pdf) for full details.

Online Tool Training Workshops
Clarity Travel will be on campus Tuesday 23 February to conduct training for their online booking tool, 'Go2Book'.
If you missed the implementation training in November 2015 or would like to familiarise yourself a bit more with Go2Book we have arranged sessions with Paul Walton (Account Manager) from Clarity Travel who will walk you through, real time, some typical bookings, allowing you to practice on the system.
The training will take place in the Jura Lab which is located in the University Library and the following sessions are available:
11.30am – 12.30pm
2pm – 3pm
3.30pm – 4.30pm
To register for one of the above please e-mail Paul: paul.walton@claritytm.co.uk, stating which session you would like to attend.

Trip Pay App
Did you know that Clarity Travel have a 'Trip Pay' App which allows travellers to have all the payment information relating to their booking accessible through their smart phone? Please see the Clarity App (pdf) information sheet which takes you through the benefit of the app and how to use it.
---
First published: 23 February 2016