DJ Party recognised
Published: 25 January 2016
The 2015 DJ's Christmas Party, organised by Derek Johnston from Estates and Buildings, has been recognised by the charity it supports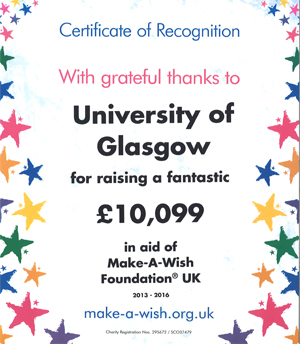 The University of Glasgow staff annual fixture known as DJ's Christmas Party has been recognised by the charity it supports for its contributions.
Organised by Derek Johnston, a Maintenance Services Supervisor with Estates and Buildings, the event has been running for several years.
This year the party raised £4310.00 - the biggest single amount raised from any of the parties in their four-year history. Derek has now been presented with certificates recognising the University's most recent contribution...and even more impressively, the £10,099 raised to date by DJ and his supporters. The certificate was presented by the event's main charity beneficiary, Make-A -Wish UK. DJ's Christmas Party is also supported by the Fergusson Bequest.
---
First published: 25 January 2016