UofG researchers inspire scientists of the future
Issued: Tue, 09 Feb 2016 07:44:00 GMT
Researchers at the MRC/CSO Social and Public Health Sciences Unit used their experience and work to inspire potential scientists of the future at Glasgow Science Centre's Try Science Days on 4 & 5 February.
1000 pupils from Scottish primary and secondary schools took part in the days. The researchers spoke about their work and and ran activities that gave an insight into what public health research is all about.
Lynsay Matthews, Trial Manager for the Unit's Help Me Do It! weight loss study took part in the event. She said: "We explained the ideas we have for using apps to support living healthier lives as part of our study and the schoolchildren came up with their own ideas to make fun apps that would appeal to kids."
The days provided an opportunity to showcase a range of STEM careers and also demonstrate how social science is applied to issues of public health, health inequalities and policy making.
Dr Lisa McDaid, Public Engagement Lead for the Unit, said: "Public engagement activities such as the Try Science days are an essential part of our work and an important way for us to share our research with the public."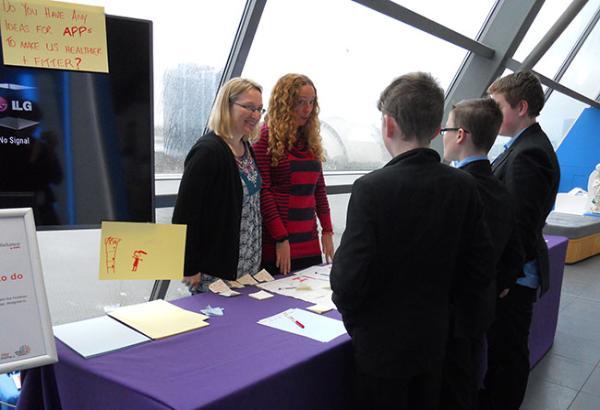 ---