Meet our Inspiring People
Published: 13 December 2016
Janitor David Docherty goes out with a bang…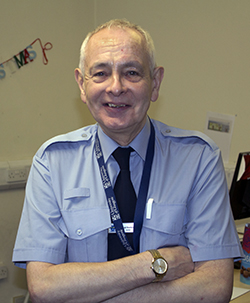 Talk about going out with a bang…
After 43 years at the University of Glasgow, David Docherty will retire at the end of this month. A familiar and friendly face to many staff and students, David has been the janitor at 1 Lilybank Gardens – home of the Institute of Health and Wellbeing - for almost 20 years.
Far from slowing down into retirement, just six weeks ago David sprang into action after an explosion on the street outside his building, saving a man from serious injury. A contractor accidentally drilled through an electric cable and one workmen was hit by the full force of the fireball.
"There was a bang and a flash then a huge ball of smoke," David told Campus e-News. "Their vans were parked just outside here. They had this big container of water for making tea and I could see them trying to pour it out into a cup to put on him, but that wasn't working. I said: 'We've got a shower in here, bring him in and one of you come with him.' He couldn't really see so I wanted him to have a voice he recognised to make him comfortable. I knew there was no major problem with his breathing because he could speak, but we couldn't risk anything like taking off his burned jacket, so I just kept him there under the cool water and we talked to him and kept him calm and clean until the ambulance came."
The man's face, neck, head and hands were burned and he was in hospital for a month. His doctors say that without the first aid he received it could have been far worse: thanks to David's quick action he shouldn't be too badly scarred, and we've heard that he's aiming to be back at work by the end of January.
"It's just what you do"
To David, first aid is second nature. "My gran was a nurse - a sister at the hospital - and she taught all us kids first aid. It was a basic thing we learned in the Boys Brigade too: how to look after an injured person until someone else can take over. It's just what you do, it's automatic.
David remembers joining the University back in the early 1970's. "My first jobs were in the family hotel and helping out at the hospital in Killearn, then I was an electrician's assistant for BBC Scotland at Queen Margaret Drive, doing outside broadcasts all around the islands and up north. For a while it was fun, but it was only ever three-month contracts and I wanted something permanent. My friend on the darts team said 'the Uni's looking for guys' so I just walked up the hill and asked for a job.
"John Ferguson was in charge of security. He asked to speak to my boss at the BBC and he must have been quite happy because then he phoned the house and said 'Do you want to start on Monday?' Life was a lot simpler then!
"I worked in security for about a year then got changed over and was a janitor in Divinity for a few years, then Chemistry for twelve years, then here. They're very easy to work with around here. You enjoy getting up and you know you'll have a good laugh at work. You do your job and you're good to everyone, and as long you're doing that everything else just fits in."
Plans for the future
"I'm the last of my family to retire so I'll be able to catch up with my brothers! If the weather's nice now, instead of putting in and seeing if I can get a day off, I can just go see the family and we'll maybe drive up to Oban, or jump on a train and go out to the islands … I've been going up that way since I was a wee lad with the BB: out to the islands, Barra and so on, walking up and down the isles, I love that.
"I'm looking forward to being spontaneous, just throw some things in a bag and away I go. It's somebody else's shot to do the work!"
Inspiring people
When asked who inspires him, David chose Joyce McIntosh and Alieda McKinney, "the administrators next door. They never say 'Don't do that, you can't manage that', it's always 'Here I'll give you a hand'. They encourage everyone."
And outside the University: "my brother John – he's always been there for me."
Happy retirement David! You'll be missed.
---
First published: 13 December 2016