Bruce's face sparks media frenzy
The UofG's unveiling of a 'virtual image' of the face of Robert the Bruce dominated the UK's press, TV and Radio.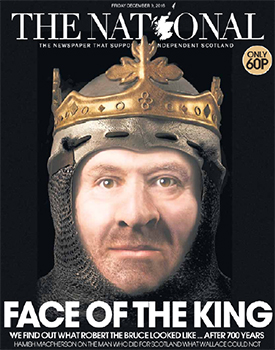 The story of the research led by the University of Glasgow, with colleagues at Liverpool John Moores University (LJMU), grabbed front page headlines, screeds of online and social media activity and featured prominently on the BBC and ITV news bulletins. The project was funded by £5,000 from the University of Glasgow's Chancellor's Fund.
Jane Chilton, the media officer in the Communications and Public Affairs Office who handles publicity for the College of Arts, said: "I knew as soon as I was briefed on the research that the media would go nuts when they saw the eerie images of the face of King Robert the Bruce.
"I don't think Dr Martin MacGregor, who led the research, or colleagues in the Hunterian Museum where a cast of the skull has been kept, really believed me when I told them this would be a massive media story.
"I am really pleased that we managed to get so much attention with this extraordinary research. And it was very gratifying to get a thank-you message from Professor Caroline Wilkinson, the Director of Face Lab at LJMU, who said we'd done a great job."
The striking image of King Robert the Bruce's face led the Sun to say he looked like the Barcelona footballer Lionel Messi! It was the stark front page image chosen, not surprisingly, by The National newspaper in Scotland. And even The Times couldn't resist an unprecedented double-page spread AND an editorial which called the research "a triumph of forensic history"... although it did go on to warn - with tongue in cheek - that the technology was in danger of shattering some fondly held illusions about great figures from history such as Helen of Troy and Cleopatra.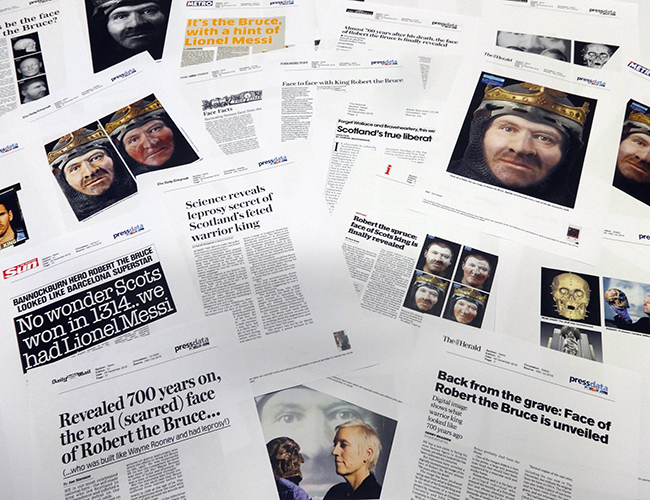 More information
---
First published: 12 December 2016