UofG's Mannequin Challenge with a festive twist
Published: 1 December 2016
Look out for this year's feel-good festive film from MaRIO, GUST and the Social Media team...
Following the success of last year's acapella Christmas video starring Choral Stimulation, colleagues from the Marketing, Recruitment & International Office, Communications & Public Affairs, and Glasgow University Student Television have once again joined forces to create a feel-good festive film.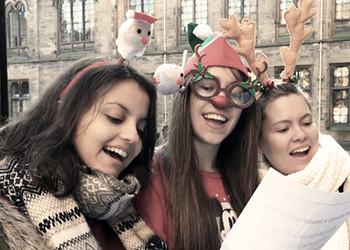 This year, the team are releasing their take on the viral "Mannequin Challenge" trend, which is currently doing the rounds on social media. Filmed on the Gilmorehill campus, the three-minute feature stars an enthusiastic group of students and staff along with the Glasgow University Sports Association mascot Gus. All were quite literally frozen to the spot while taking part in various festivities...one staff member told us that the Arctic temperatures that morning really helped them to get into character...
A huge thank you to everyone who took part!
Keep your eyes peeled for the grand unveiling of the video on UofG's social media channels on Wednesday 14 December, with GUST's "Behind the Scenes" video released shortly afterwards. The video will also be sent as a Christmas Greetings e-card to UofG's prospective students.
If you would like to find out more about the Mannequin Challenge video, contact juliet.mcewan@glasgow.ac.uk or daniel.marrable@glasgow.ac.uk
Follow the University and be the first to watch the Mannequin Challenge
---
First published: 1 December 2016