University hosts radical film conference
Issued: Thu, 28 Apr 2016 09:00:00 BST
A radical film festival, hosted by the University of Glasgow, opens tomorrow, to discuss among many things alternatives to mainstream cinema.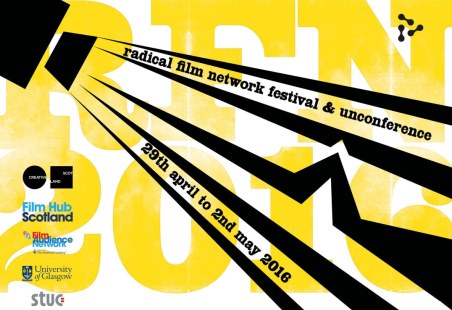 ‌‌
The Radical Film Network will hold an "unconference" to debate the future of film in Scotland and further afield.
The unconference runs until Monday and will include a number of screenings and community events aimed at showcasing a diverse range of work in alternative exhibition spaces throughout Glasgow, with spin-out screenings scheduled in venues throughout Scotland.
The festival is being organised by Dr David Archibald, lecturer in film at the University of Glasgow, and Frances Higson, film producer and director.
Commenting on the unconference, Dr David Archibald, said: "The 2016 Radical Film Network festival and unconference is a unique event and the first radical film event ever organised on this scale in Scotland.
"The planned events will bring artists and activists in radical film culture into contact with an international community of world-class thinkers in the field to explore the current state of alternative film culture. We'll screen films by artists and by trade unionists, we'll organise talks and debates on many aspects of film culture, we'll cycle across the city to outdoor screenings, and through it all we'll demonstrate that there is life beyond the multiplex, showing that another cinema is not only possible, but that it's here and it's now, and it's thriving."
The majority of the events during the festival are free thanks to this support of Creative Scotland, Film Hub Scotland, the STUC and the University of Glasgow.
The unconference will bring together the collective efforts of activists, academics, and cultural workers from over thirty organisations engaged with radical film cultures.
---