UofG Social Media Team to launch new channel
Issued: Mon, 18 Apr 2016 15:21:00 BST
The @UofGlasgow Social Media Team is looking forward to adding a new platform to its arsenal this week - Reddit, writes Emma Gilmartin, Social Media Manager.
About Reddit
Reddit is a social news website where users can post links to content on the web. Other users may then vote the posted links up or down, causing them to appear more or less prominently on the Reddit home page.
Ask me Anything
Reddit has an 'Ask Me Anything' (AMA) forum which is what we'll be launching on Thursday whereby users can ask us anything about a chosen subject.
We plan to use Reddit to showcase interesting research subjects and topical news stories from the University so please feel free to get in touch if you'd like to find out more.
It's a great channel to build engagement and interaction with a broad audience base, whether that be for recruitment or potential partners.
Ask Me Anything - Robert Maslen
Fantasy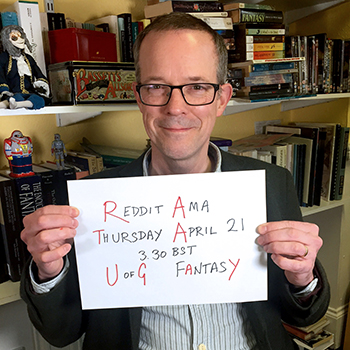 Our first Reddit Ask me Anything is going to be on Fantasy and hosted by Dr Robert Maslen who heads up the Fantasy MLitt programme at UofG.
The AMA is open to everyone – including students who might be interested in the programme or general Fantasy enthusiasts.
If you're a fan of the Fantasy genre – then please join us. Robert will be online and ready to answer questions about the course, the fantasy genre and feel free to throw in a few questions about Outlander & Game of Thrones.
Join us for the FIRST Reddit AMA with Dr Robert Maslen - Thursday 21 April, 15:30 BST
For more information please contact Emma Gilmartin
---