Un-Conference
Issued: Fri, 15 Apr 2016 12:35:00 BST
The Radical Film Network 'Un-Conference' is seeking Volunteers.
Want to be involved in a novel, exciting kind of event? Help us make the Radical Film Network unconference happen! We are bringing together Film-makers, exhibitors, activists and academics to meet and discuss projects and views about radical cinema in a radical way.
Why volunteer?
The Unconference is a fantastic opportunity to gain hands-on experience in organising a new kind of cultural event, and knowledge of the radical film culture in Scotland and beyond.
This is a great happening to be involved in, especially if you are interested in radical film culture, local film organisations in Scotland, or the dynamics and logistics of international un-conferences and radical new forms of academic events.
What is Expected from a Volunteer?
Volunteers will receive training and are requested to be available for maximun four hour shifts at a time. You will be involved in all aspects of the event, but we have identified various key posts we will need some help with:
Technical Support (microphone runners, during discussions & presentations)
Information Support (directions between session locations, runners, greeters, and 'go-to' for questions)
Logistic support (keeping key spaces such as the breakfast station and others staffed, equipped and working)
Interested students please join us for a Volunteers meet up on April 20 at Gilmorehill Halls. Have a look at the Radical Film Network and Un-Conference Facebook page.
or get in touch with Kathi Kamleitner - k.kamleitner.1@research.gla.ac.uk
Quick Facts:
The Radical Film Network Unconference at the University of Glasgow: visit the Radical Film Network web site.
Dates & Timing: April 29, 2016 (3 - 5.30pm); April 30 - May 1, 2016 (9am - 5pm)
Location: Gilmorehill Halls, University of Glasgow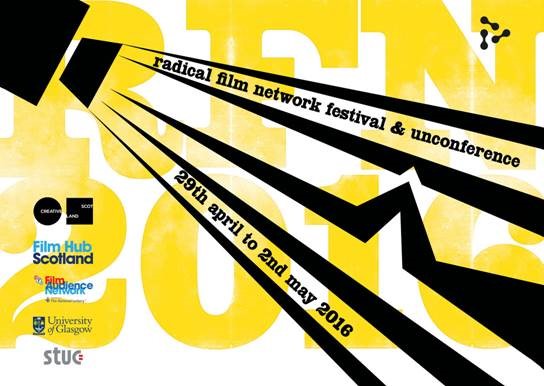 ---