UofG graduate wins best director at film festival
Issued: Mon, 18 Apr 2016 15:13:00 BST
University of Glasgow graduate, Massimiliano Milic, has won Best Director and Best International Film at the Broke Student Film Festival in Michigan.
Massimiliano who studied Filmmaking and Media Arts at the University won the award for his documentary Drago whichtells the story of his mysterious grandfather who worked as a spy for allied forces during the second world war.
About the film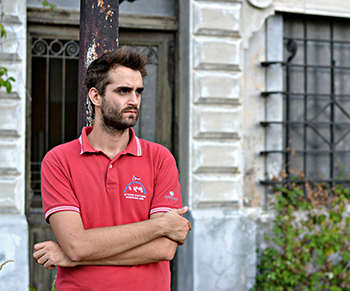 Massimiliano said: "For the documentary I wanted to tell the story of my grandfather Drago Milic.
"It is the story of his life told by myself, looking for the lost origins of my family: from when he was a child growing up in the Austrian-HungarianTrieste (Italy), through the two World Wars and until his death in Lubiana (Slovenia).
"For me Drago has always been a mysterious and enigmatic figure as I never had the opportunity to meet him
"Since I was a child, the only thing I was told about Drago was that he used to be a spy for the Allied army during the Second World War.
"By knowing very little about him, it has created a mysterious aura around him, which has often driven my imagination wild.

"Furthermore the production of this documentary has become important to me for another reason. Drago's story encouraged me to be proud of, and not ashamed of my Slavic origins."
The Film Festival
The Broke Student Film Festival was founded in 2012 as a place where aspiring filmmakers can display their work and receive constructive feedback from industry professionals.
---