MVLS host BBSRC Impact Showcase
Issued: Thu, 14 Apr 2016 15:47:00 BST
The Queen Elizabeth Teaching and Learning Centre at the Queen Elizabeth University Hospital hosted the College of Medical, Veterinary & Life Sciences' BBSRC Excellence with Impact Showcase Event on Wednesday 13 April 2016.
The event was held as part of the University's participation in the BBSRC Excellence with Impact Competition.
Maximising impact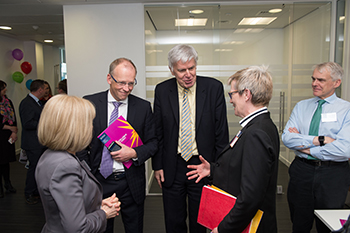 The competition, which formally started in January 2013, aims to recognise institutions that can develop and successfully deliver a vision for maximising impact, alongside a relevant institution-wide culture change.
The winning organisation will receive an award of £0.5M and there will be a further £0.5M available to be awarded at judges' discretion to highly commended runners up. Winner and runners-up of the competition will be announced in May 2016.
Inspiring research
More than 100 staff and students from across the University and representatives from external industry partners and stakeholders attended the event.
The Research Institutes and Schools also provided exhibits demonstrating displaying information about their inspiring research.
In addition, the winners of th efirst MVLS World Changers competition were announced at the event by Professor Anna Dominiczak, Vice-Principal and Head of College of Medical, Veterinary and Life Sciences. The competition was held in collaboration with Aridhia Informatics and Glasgow City of Science and was a huge success with #UofGImpact being exposed to an audience of over 900K.
A collaborative effort
Professor Anna Dominiczak said: "Like our journey, this event is a truly collaborative effort with participation from students, early career researchers, academic staff and professional services staff from across the University and we also have representatives from some of our external partners. I am really proud to be able to show all of the hard work and enthusiasm that has gone into driving forward our vision and delivering our impact agenda with the BBSRC judges".
Dr Carol Clugston, College Secretary and BBSRC Excellence with Impact Competition lead said: "We couldn't be happier with the fantastic contribution to the BBSRC Excellence with Impact Showcase event. We were overwhelmed by the enthusiasm and effort put into the event and we are so proud of our staff, students and collaborators".
---