Big heating project ends
Issued: Fri, 15 Apr 2016 14:13:00 BST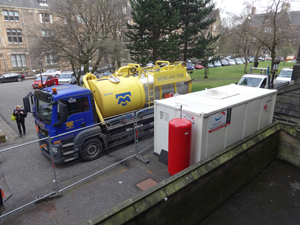 The multi-million pound project to equip the University with an environmentally-friendly District Heating Scheme has been completed successfully.
All those involved in the complex project - from the University and from contractors Crown House Technologies - have issued a 'thank-you' to students, staff and our neighbours in the West End of Glasgow for demonstrating patience with the inevitable disruption. Last week, the last temporary steam boiler and its fuel tank were removed from outside the Memorial Chapel.
The new heating system for the University's West End campus is now running. As well as heating our buildings, it is generating a large percentage of the electricity we use. We are now cutting our carbon emissions by 5000 tonnes annually. We have moved much closer to our target of a 20% reduction in our carbon footprint. In the process, we have laid the foundations for our World Changing Campus that is soon to take shape on the site of the former Western Infirmary.
District Heating Scheme - The Movie!
We have done our best to keep you informed of progress throughout the lifetime of the project. In the last year, we have dug five and a half kilometres of trenches to carry the pipe network. We have also installed 24 kilometres of ducting for high-voltage and IT cables.
In addition, a dedicated teaching and research area was constructed beside the plant room, enabling students to view the CHP engine and other features in operation through a large window, and view real-time data on a plasma screen. Now the system is fully commissioned, we will be using this from the start of next academic year.
We would like to thank you, once again, for your patience and tolerance. If there are ways in which we can improve our communications and engagement as we create our World Changing Campus over the next few years, please tell us.
Complete our quick feedback survey via SurveyMonkey and get a chance to win a £50 gift voucher. Terms and conditions below.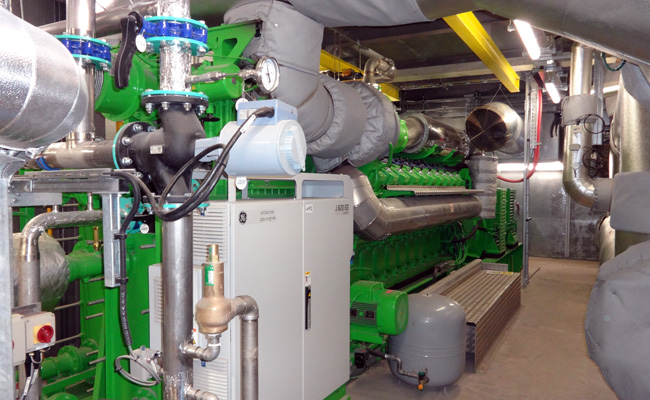 ‌
Terms and Conditions: The prize draw is for a £50 gift voucher. It is open to staff and students of the UofG. Winner will be drawn at random and notified by 31 May 2016. Entrants will be deemed to accept these Ts and Cs. One entry per person. Name of the winning person will be notified in Campus e-News.
---