Learning and Teaching Conference
Issued: Tue, 12 Apr 2016 11:52:00 BST
The University's annual Learning and Teaching conference goes from strength to strength. The Bute Hall was packed today (Tuesday 12 April) for the 9th conference in the series with 300 delegates registered and fifty external guests.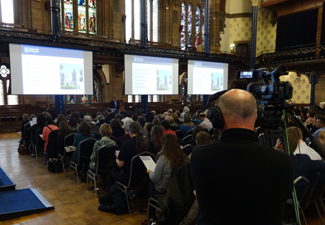 Senior Vice Principal, Neal Juster, welcomed the delegates and told them the gathering was now the largest internal event organised on campus.
Professor Juster said there had been a tremendously positive change in the way in which the University went about teaching and learning over the last nine years. He predicted that the Learning and Teaching conference would continue to grow and within a few years would be taking place in the large auditorium that will be the centre-piece of the new Hub.
In his opening welcome, Vice-Principal (Academic and Educational Innovation), Professor Frank Coton, said the designs for the Learning and Teaching Hub building were well advanced. Trials were also underway of different styles of learning and teaching spaces and room configurations. For the duration of the conference, the Senate Room was fitted out with various designs of desks and seating for delegates to experience and discuss.
The University had commissioned a short video for the conference reflecting on the work that is going on to inform the design and operation of the Learning and Teaching Hub. The Hub will be the first major building project of the £1 billion World Changing Campus.
The video was produced/edited by Natasha Quinn and Jane Chilton, Communications and Public Affairs Office.
The first keynote address of the day came from Professor Peter Felten of Elon University in North Carolina. His topic: 'Mind the Gap: pedagogical intentions, student perceptions, and the power of partnerships.' Emerging research in the United States suggests that university students learn more, and more deeply, when staff are clear and transparent about the purposes, tasks, and assessment criteria of the work assigned in modules and courses. However, research also demonstrates that students often misunderstand or do not value the work required of them in higher education. Professor Felten's interactive session explored the gap betweeen pedagogical intentions and student perceptions, and considered how working in partnership with students might enhance transparency, motivation and learning.
Other keynote speakers during the day included Dr Tansy Jessop from the University of Winchester who's topic was: 'Why you can't buy higher education in a DVD box set: reflections on assessment from Transforming the Experience of Students through Assessment (TESTA).' Dr Jessop's session drew on findings from national and local projects on assessment, technology and student engagement to reflect on some key tensions which make active student participation both absolutely vital and deeply problematic.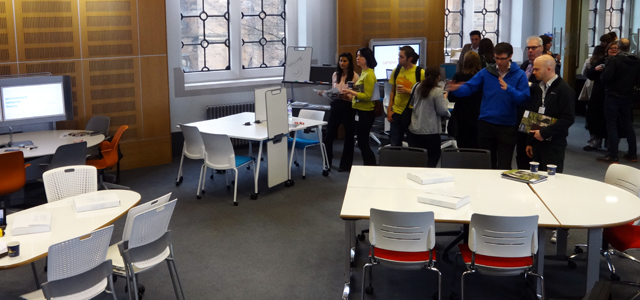 ---