UofG and Pwani Uni join forces to combat disease
A partnership agreement to promote joint scientific research and education programmes – with a focus on tropical diseases - has been signed by the University of Glasgow and Pwani University in Kilifi, Kenya.
The Memorandum of Understanding marks the latest in a number of collaborations between Glasgow and Kilifi, led by the Wellcome Trust Centre for Molecular Parisitology (WTCMP) at the University of Glasgow.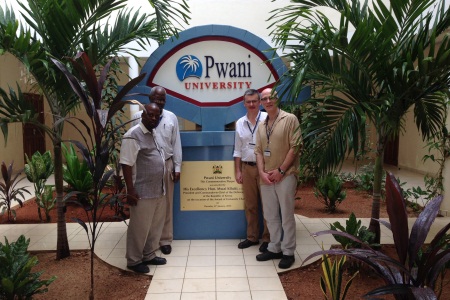 Initial links with Pwani University were established when Professor Paul Garside, who is the head of the Centre for Immunobiology at the University of Glasgow, spent three months carrying out research at the Kenya Medical Research Institute (KEMRI)-Wellcome Trust Research Programme, also based in Kilifi.
Pwani University is at the early stages of an ambitious expansion programme and there are plans for WTCMP's principal investigators to play a part in this by staging a summer school at Pwani in 2016.
Professor Andy Waters, Director of WTCMP, said: "The MoU is an important maturation of our working relationship with Pwani University and will allow us to proceed towards building a reciprocal research and education programme alongside our colleagues at the KEMRI Wellcome Trust Institute.
"WTCMP is committed to research with practical outcomes in areas of the world afflicted by disease caused by tropical parasites and we hope to establish a bridgehead that will allow a full interaction of the entire range of the University of Glasgow's capacities with Pwani University and other local stakeholders."
Professor Garside added: "This is a very exciting development that will further strengthen the ongoing intellectual and scientific exchange between the University of Glasgow and colleagues in Kilifi. It will enhance the development of joint programmes to mentor and train the research leaders of the future to combat the range of communicable and non-communicable disease challenges we all face."
---
First published: 10 August 2015