Quick Links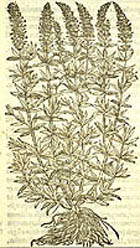 Hyssopus plant from Mattioli's 1554 Comentarii ... Pedacii Dioscoridis de medica materia (Sp Coll f313)
Walker-Arnott Collection
970 volumes of botanical literature including some of the finest examples of 18th and 19th-century illustrated flower books, such as:
The collection, formed by George Arnott Walker-Arnott (1799-1868), Professor of Botany at the University of Glasgow, was purchased by the University from the Walker-Arnott trustees in 1869 for the sum of £700. Regrettably the books were not kept together as a single collection; many of them have been incorporated into the stock of the Special Collections Department, while other volumes from the collection are housed in the .
Several of Walker-Arnott's books are rubber stamped with the name 'Arlary' - the name of his house in Kinross-shire.
There are also a small number of annotated Walker-Arnott volumes on permanent loan at the Royal Botanical Gardens of Edinburgh. These interleaved volumes relate to the plant samples which are also housed at the RBGE where Walker-Arnott's herbarium is kept. These books include copies of R. Wight's 'Contributions to the Botany of India' (1834), Smith's 'British Diatomaceae' and four manuscripts. These items were transferred to Edinburgh from the University's Herbarium Library (Botany) in 1998.
How to find material in the Walker-Arnott Collection
Browse through a list of the entire collection (including all items in Special Collections and the Library Research Annexe); or use the rare books search to locate a specific item.
Most of the books housed in Special Collections have been given the shelf-mark Sp Coll Arnott: browse through a list of titles; there are several books (including a number of plate books) that are scattered in the general runs of Special Collections material: browse through a list of titles.
Browse through a list of manuscript material in the collection (consisting of loose pages of notes that were originally inserted in Arnott's books); or, use the manuscripts search to locate a specific item.
Contact Royal Botanical Gardens of Edinburgh for details of 8 works annotated by Walker-Arnott relating to his herbarium
Unpublished author catalogue available in the Special Collections Department (on the reference shelves in the reading room), showing the contents of the collection shortly after its receipt by the University.
Great flower books: an exhibition, 15 March-22 April 1977 (Glasgow, 1977). Exhibition catalogue available for reference in Special Collections Department
Perennial pages: flower illustration in books since the Renaissance (Glasgow, 1995). Virtual exhibition.
See also the following 'book of the month' articles that features an item from the Walker-Arnott collection:/p>
Quick Links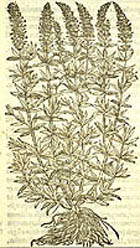 Hyssopus plant from Mattioli's 1554 Comentarii ... Pedacii Dioscoridis de medica materia (Sp Coll f313)