United States of America

Collection: Lumsden family (GUAS Ref: DC 112)
Sir James Lumsden of Arden (1808-1879) became a partner in the family stationery business, James Lumsden & Sons, in 1834. His involvement in the business lasted over forty years, his retirement coming in 1876. Like his brothers, James acted as one of the company's travellers, travelling extensively in the 1830s. James was prominent among the Glasgow business community; he became Dean of Guild in 1861, and was a member of the Town Council, and held the post of Lord Provost from 1866 until 1869.
He was knighted in 1868 after acting as host to the Prince and Princess of Wales when they visited Glasgow to lay the foundation stone for the new University buildings on Gilmorehill. His business interested extended beyond the family business, with him taking an interest in the Clyde Navigation and Lighthouse Trusts. He was director of the Glasgow and South Western Railway from 1849, becoming Chairman in 1871; was director and Chairman of the Clydesdale Bank; and was the last chairman of Clyde Shipping Company before its sale to a private interest in 1857.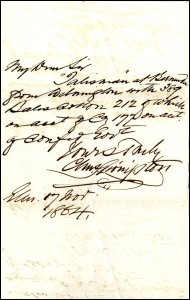 This note, dating from 1864, from Charles Livingston to James Lumsden informs him that the Talisman, a blockade runner during the American Civil War, had reached Bermuda with its cargo of 389 bales of cotton from Wilmington. The economic impact of the American Civil War on Scotland, and Clydeside in particular, was far reaching. Clyde shipbuilders profited from the Confederate's need for ships to run the blockade, and Scottish ship owners and blockade running houses made massive profits running the blockade, shipping in vital and luxury good to America and bringing out cotton for European markets.
(GUAS Ref: DC 112/C18/2/5. Copyright reserved.) For further information on the Lumsden family archive, please see the online catalogue.
Collection: Ellerman & Bucknall (Steamships) Co Ltd (GUAS Ref: UGD 131/3)
Ellerman & Bucknall (Steamships) Co Ltd began in 1740 as Henry Bucknall & Sons, who traded in cork from Portugal. In the mid-nineteenth century, the company purchased a fleet of sailing ships to transport their merchandise, and by the end of the century it was operating cargo and passenger services to ports in South Africa, India and Burma, America, the Canary Islands and Australia.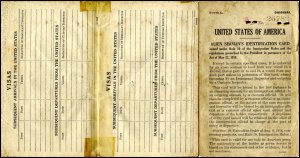 By 1910, the company had been taken over by the successful shipowners Ellerman Lines Ltd, and the company name changed to Ellerman & Bucknall (Steamships) Co Ltd in 1914. During both World Wars, the company's ships were requisitioned by the government, effecting the ordering of new ships as the company sought to secure its position in the market at the end of both wars.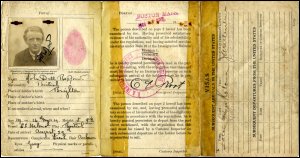 With its fleet serving both the passenger and cargo markets, Ellerman & Bucknall's ships travelled across the world from northern European ports to South and East Africa, across the Indian Ocean and the Mediterranean, to the Far East, Persian Gulf and Australia.
This is the Alien Seaman's Identification Card for John Dell Bedford for entry into the United States of America, dated 1919. Sailors were required to have an identification card when entering USA ports.
(GUAS Ref: UGD 131/3/8/3/7. Copyright reserved.) For further information on the Ellerman & Bucknall (Steamships) Co Ltd archive, please see the online catalogue.
Collection: William Douglas Weir (GUAS Ref: DC 96)
William Douglas Weir became a Director in the family engineering firm of G & J Weir Ltd in 1898 at the age of 21 after having served an apprenticeship in all departments of the business. In 1902, he became Managing Director in 1902, and succeeded his father as Chairman in 1912.
Under his Chairmanship, G & J Weir Ltd undertook development work on steam driven buses, military aircraft and house building whilst retaining its main business in the manufacture of auxiliary machinery and pumps. Weir maintained a number of influential positions outwith the family business, becoming Scottish Director of Munitions for the Government's Ministry of Munitions in July 1915, and, in 1917, he went to London as Controller of Aeronautical Supplies and a Member of the Air Board. Weir served as Air Minister in 1918 then as Secretary of State for Air Forces and President of the Air Committee until 1919.
In 1917, he was knighted and created a Baron and Privy Councillor in 1918. He was appointed Chairman of the House of Lords Advisory committee on Civil Aviation in 1919. He resumed his duties as Managing Director of G & J Weir Ltd when peace was declared, alongside which he was active in a range of professional bodies.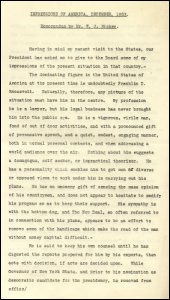 To ensure success, G & J Weir Ltd was active in seeking out new business opportunities. In 1933 Mr W J Rickey took a business trip to the United States to seek out new opportunities, clients and partners for the company to take forward. His notes on this trip set out his impressions of the United States from a business perspective.
(GUAS Ref: DC 96/18/163. Copyright reserved.) For further information on the papers of William Douglas Weir archive, please see the online catalogue.
Collection: Pollok, Gilmour & Co (GUAS Ref: UGD 36)
Pollok, Gilmour & Co was established in Glasgow in 1804 to trade in Scandinavian timber. Initially using the port of Grangemouth to establish trade with Norway and Sweden, the company quickly switched their trade to the American colonies, becoming the leading British firm in the North Atlantic timber trade.
In addition to its branches in Liverpool and New Orleans, between 1842 and 1954 Pollok, Gilmour and Co established branches in Canada at St John (Robert Rankin & Co) and Miramichi (Gilmour Rankin & Co), New Brunswick, Bathurst, Chaleur Bay (Ferguson Rankin & Co), Montreal (Gilmour & Co) and Quebec (Allan Gilmour & Co). Its branch in New Orleans traded under the name of Houghton Rankin & Co, its Liverpool branch as Rankin Gilmour & Co.
This contract, dated 1854, is evidence of the company's policy of establishing branches in North America to facilitate trade. The contract sees the extension of the partnership between the company's Glasgow office with its branches in Liverpool and New Orleans, to include John Pollok, a merchant in Mobile.
(GUAS Ref: UGD 36/1/8. Copyright reserved.) For further information on the papers of Pollok, Gilmour & Coarchive, please see the online catalogue.
Collection: University Records - Graduation (GUAS Ref: R)
The earliest recorded instance of a student from the USA studying at the University of Glasgow is John Porter in 1703. One of the most remarkable American students to follow this example was James McCune Smith, the first African American to be awarded a University medical degree and practice medicine in the United States.

He was born in New York City, to parents who were former slaves, and began his education at the African Free School in that city. Racial discrimination barred him from American medical schools so he crossed the Atlantic and studied at the University of Glasgow, where there were no barriers to education. He received a bachelor's degree in 1835, a master's degree in 1836, and his medical degree in 1837.
He subsequently practiced medicine in New York for 25 years and was involved in the anti-slavery and suffrage movements, contributing to and editing abolitionist newspapers and serving as an officer of many organizations for the improvement of social conditions in the black community. A prolific writer, he opposed the American Colonization Society's plan to repatriate African-Americans and he was active in the Underground Railroad during the civil war.
(GUAS Ref: R. Copyright reserved.)