Canada

Collection: J & P Coats (GUAS Ref: UGD 199)
With its foundations in the small mill established by James Coats in Ferguslie, Paisley in the late 1820s, J & P Coats became one of the world's leading thread manufacturers. Following the retirement of James Coats in 1830, the firm developed rapidly as James' sons, James junior, Peter and Thomas took on control.
The company quickly established a market within the USA, the superior quality of Coats' thread making it extremely popular. In addition to developing the Ferguslie Mills in Paisley, the J & P Coats built mills in the USA at Pawtucket, Rhode Island State, in Canada at Montreal and throughout Europe in Russia, Germany, Austria, Hungary and Spain.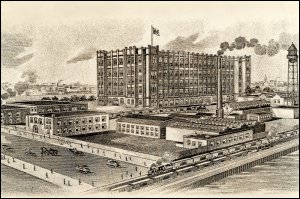 At the beginning of the twentieth century the company, from its headquarters in Glasgow, oversaw the operations of its 21,000 employees in 17 production centres, 60 branch houses and 150 selling depots throughout the world. The company continued to trade and develop throughout the twentieth century, becoming Coats Paton, then Coats Viyella before being renamed Coats plc in 2001.
This image is of the J & P Coats' mill in Montreal which came into production in 1903.
For further information on the Coats Viyella plc archive, please see the online catalogue.
Collection: Miss Donaldson (GUAS Ref: ACCN 1821/1/6)
The Canadian Pacific Line operated as part of the Canadian Pacific Railway Co, which was established in 1881 to provide a means of transportation between east and west Canada. By 1885, the first railway across Canada, from Ontario to British Columbia was complete.
The company quickly diversified, and by the end of the nineteenth century operated a steamship service operating in the Great Lakes and on transatlantic routes and was involved in the tourist trade with hotels across the country. This diversification made it possible to travel from Britain to Hong Kong using only the Canadian Pacific Railway's liners, trains and hotels. The diversification continued in the twenty-first century with the development of Canadian Pacific Airlines.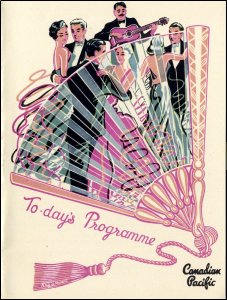 This item is taken from the papers of Miss Donaldson who sailed on the Canadian Pacific Line. The Canadian Pacific Line's ships were christened with the prefix Empress, and became world-famous for their luxury and speed. This is the elegantly designed programme for the programme of events on board the Empress of Britain on 22nd August 1957.
(GUAS Ref: ACCN 1821/1/6. Copyright reserved.)