Middle East and Gulf States

Back to Middle East and Gulf States
Lebanon

Collection: James Craig Henderson (GUAS Ref: UGD 305)
James Craig Henderson was born on 11 July 1924. He worked as a bank official and insurance clerk before serving in the Armed Forces during the Second World War. He served in the Royal Air Force Volunteer Reserve from May 1943 until December 1944. He enlisted in the Royal Army Ordnance Corps in December 1944, serving until January 1948 and attaining the rank of Warrant Officer. After leaving the Armed Forces he worked as a commercial traveller in the Middle East.
This is a postcard, entitled 'Liban - Jounieh', which James Craig Henderson acquired on his travels. On the reverse is written: 'A small place I passed through when en route to Turkey – Jennie in the Lebanon – almost next to Beirut'.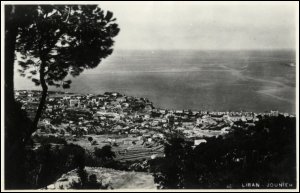 View larger image
(GUAS Ref: UGD 305/4/1/6. Copyright reserved.)
For further information on the papers of James Craig Henderson archive, please see the online catalogue.
Middle East and Gulf States

Back to Middle East and Gulf States