Antarctica

Collection: David Ferguson (GUAS Ref: UGC 176/3/1)
David Ferguson (c1857-1936) attended the University of Glasgow between 1905 and 1908. Ferguson was a mining engineer, a geologist and Antarctic explorer - the Hunterian Museum's largest collection of Antarctic rocks were collected by Ferguson on geological survey expeditions commissioned by Christian Salvesen and company between 1911 and 1915, and he was among the first to geologically investigate the South Shetland Islands, Graham Land and the Belgica Strait.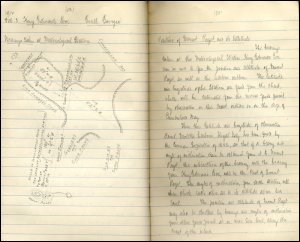 The image shows a page from one of Ferguson's field note books from King Edward's cove, South Georgia, dated 3rd February 1912. The entry includes a hand-drawn geological map of the area and Ferguson's field notes.
(GUAS Ref: UGC 176/3/1 p54-55. Copyright reserved.)
This image shows a hand map showing the track of the SCOTIA during the Scottish National Antarctic Expedition 1902-1904. This map was produced to accompany a lecture given by W S Bruce, 14th December 1905, at the Athenaeum, Glasgow, which Ferguson no doubt attended.
(GUAS Ref: UGC 176/5/1. Copyright reserved.)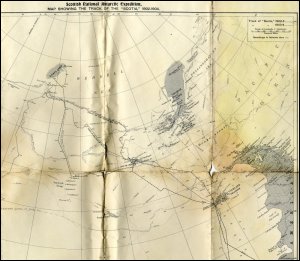 For further information on the papers of David Ferguson archive, please see the online catalogue.