Academic Policy & Governance (APG) is a new unit formed from the former Senate and Academic Collaboration Offices. (See APG Welcome page for further information.)
Higher Education Achievement Report
Overview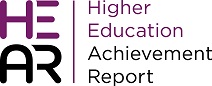 The University provides Higher Education Achievement Report (HEAR) to students on completion of their studies. The HEAR is a means for recording student achievement in Higher Education including information on extracurricular achievements.
The HEAR provides a single comprehensive record of your achievements as a student at the University of Glasgow and should enable you to present a wider range of your achievements to employers and postgraduate tutors, thereby helping your employability or opportunities for further study.‌
Information on HEAR
| | |
| --- | --- |
| 1. | Information about your qualification - degree title and subject, awarding institution(s). |
| 2. | Information about the level of your qualification - level of study, duration, entry requirements. |
| 3. | Information on the content of your studies and results gained - programme information (via a link to the University's programme specifications) and a full academic transcript of courses and grades. Your course and grade information can also be viewed via MyCampus. |
| 4. | Information on the function of your qualification - access to further study, professional status. |
| 5. | Additional information - this is the section that allows the University to confirm information related to your wider achievements during your time here. It includes: * Academic Prizes and Awards * Student Representation * Sporting Achievements * Employability * Work Placements and Volunteering * For more details see http://www.gla.ac.uk/students/attributes/hearandyourdegree/activities/. |
| 6. | Information on the University and the national higher education system - descriptions of the University of Glasgow and the higher education in Scotland, diagram of higher education levels. |
Add an Extracurricular Activity to HEAR
There are two key principles for these items; they need to be:
| | |
| --- | --- |
| i) | recordable in MyCampus, and; |
| ii) | activities or achievements that can be verified by a specified agency in the University (e.g. External Relations, Registry, Careers Service, SRC). |
Items which are a mandatory course requirement or attract credit points are not included – these will appear elsewhere in the HEAR.
The agreed procedure for deciding items to be included in Section 6 is as follows:
| | |
| --- | --- |
| 1. | The proposer completes the template below, and returns it to senate-administrative-assistant@glasgow.ac.uk. |
| 2. | A check will be made that the item being suggested represents a student achievement and can be verified appropriately by the University. |
| 3. | If no, the item will be refused and the proposer informed. |
| 4. | If yes, contact will be made with MyCampus Support, Development & Infrastructure, to ensure that the item can be recorded appropriately within MyCampus. |
| 5. | The HEAR Approvals Board, convened by the Clerk of Senate will be consulted for the final decision on whether or not the item should be accepted for inclusion. |
| 6. | If the item is then accepted for inclusion, the initial setup of the item will be entered on MyCampus. The proposer will have to sign up as a Verifier in MyCampus and they or an administrative delegate (also registered on MyCampus) will make the annual input of students who have qualified for inclusion of the item on their HEAR. Please note that only members of GU staff can be verifiers or delegates. |