Scotland's largest gold nugget now on display at The Hunterian
Published: 30 August 2022
The Hunterian at the University of Glasgow is now home to the largest gold nugget found in Scotland in over 400 years.
The Hunterian at the University of Glasgow is now home to the largest gold nugget found in Scotland in over 400 years.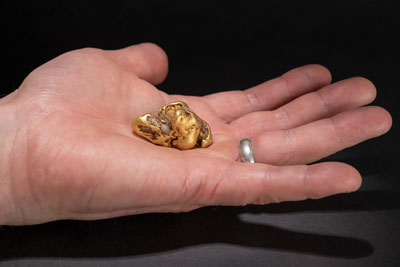 The 'Douglas' gold nugget weighs 85g and was found in a river in Perthshire in 2017. It is named after the finder, who otherwise wishes to remain anonymous.
Scottish gold laws date from late-medieval times and grant ownership of gold to the Scottish Crown, although in some places these rights were passed on to aristocratic landowners. The geological and cultural importance of the 'Douglas' gold nugget meant that Crown Estate Scotland and its mineral agent (Wardell Armstrong) worked with the finder, National Museums of Scotland and The Hunterian to preserve it in a public collection.
Crown Estate Scotland supported the process by granting a formal transfer of this unique geological specimen to The Hunterian to ensure that it is permanently preserved in a public collection in Scotland to be seen, enjoyed and studied. The National Fund for Acquisitions provided financial support.
The nugget is now on display at the Hunterian Museum, University of Glasgow.
Most Scottish gold has been found as dust, or sand-sized flakes in river sands and gravels, eroded from much older rocks. The geology of Scotland, especially parts of the Highlands and the Borders, is favourable for deposits of gold and potentially other valuable and useful metals. However, much of the bedrock is remote and hidden by vegetation, soil, glacial drift or water, so there is good potential for new mineral resources to be found.
The 'Douglas' gold nugget has been transported from its bedrock by water, becoming smooth and rounded by tumbling against other pebbles. It probably originally grew in rocks which were fractured and altered by hot mineralising waters about 400 million years ago. Gold is very soft and easily worn away, so a nugget of this size and weight has probably not travelled very far. Staff at the University of Glasgow have carried out a lot of research on Scottish gold, and other mineralisation, and this work is helping to guide mineral exploration.
In the 16th century large quantities of gold dust and nuggets were found in the Scottish Borders, especially at Glengaber and Crawford Moor. A lot of these finds were made into coinage and the Scottish royal regalia. Most surviving large gold nuggets were found in the 19th century, but none are as big as the Douglas Nugget.
The brand new underground gold mine at Cononish, near Tyndrum, where Scotgold holds a lease of the gold and silver rights from Crown Estate Scotland, is currently producing nearly 1000 ounces of gold per month. This is much more than has ever been produced in Scotland before. However the Cononish gold never forms large nuggets. Most is invisibly small micro-particles in rock which require careful processing to recover.
The Hunterian Museum is open Tuesday to Sunday, 10am–5pm, admission free.
---
First published: 30 August 2022