Increase to admission charge for Mackintosh House
Published: 9 January 2018
From 23 January 2018 full price admission to the Mackintosh House will increase from £5.00 to £6.00.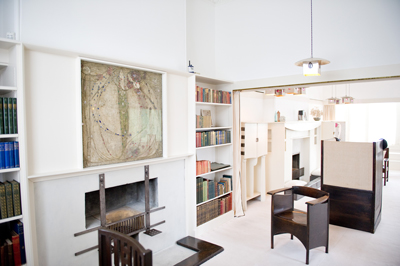 From 23 January 2018 full price admission to the Mackintosh House will increase from £5.00 to £6.00. The price of concession tickets will remain at £3.00.
Income generated from the charge contributes to the costs of running the House and allows investment in the service provided for visitors.
Free entry is available for children and young people under 18, University of Glasgow staff and students*, Hunterian Friends*, National Art Pass holders, ASVA members*, ICOM members* and UK Museums Association members.* The concessionary rate applies to senior citizens (60 and over) and the unemployed. (*With a valid membership/staff/matriculation card).
Admission to the Mackintosh House is by a combination of guided tours and free flow self-guided visits. Guided tours of the Mackintosh House take place from Tuesday to Friday at 10.00am, 10.30am, 11.00am, 11.30am, 12.00pm and 12.30pm. Admission is self-guided from 1.00pm Tuesday to Friday and all day on Saturday and Sunday. Last admission 4.15pm (3.15pm Sunday).
The Hunterian is home to one of the most important collections of the work of Scottish architect, designer and artist, Charles Rennie Mackintosh (1868-1928) and his artist-wife, Margaret Macdonald Mackintosh (1864-1933).
The Mackintosh House is a meticulous reassemblage of the principal interiors from the Mackintoshes' Glasgow home. The couple lived at 78 Southpark Avenue (originally 6 Florentine Terrace) from 1906 to 1914.
The interiors, completed in 1981, have been furnished with the Mackintoshes' own furniture - all to Mackintosh's design - and decorated as closely as possible to the original. The selection of bric à brac, fitted carpets, curtains and other soft furnishings is based on contemporary descriptions of the house and photographs of Mackintosh interiors of the period.
---
The Mackintosh House
Hunterian Art Gallery
University of Glasgow
82 Hillhead Street
Glasgow G12 8QQ
Open Tuesday – Saturday 10.00am – 5.00pm and Sunday 11.00am – 4.00pm.
First published: 9 January 2018