Take pride in university museums open to all
Published: 20 January 2018
Hunterian Director Steph Scholten reflects on the Scottish museum landscape six months into post.
By Steph Scholten, Director of The Hunterian, University of Glasgow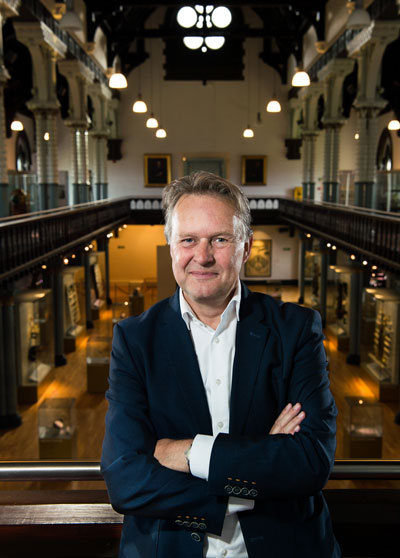 THIS year sees the 300th anniversary of the birth of William Hunter, founder of the Hunterian Museum at the University of Glasgow. As its latest director, coming from The Netherlands with almost 30 years of international museum experience, I would like to share some of my reflections on the Scottish museum landscape six months into post.
My first and strongest impression is the emphasis on museums as social institutions. Museums should be democratic and accessible or not exist at all. In Glasgow, since the Burrell Collection opened in 1983, this is particularly strong; museums are approached as instruments for reviving a struggling city and its communities. And arguably, successfully. Footfall is high and well-distributed across the population, certainly compared to other European countries.
Free access makes the "business model" of museums strongly dependent on public funding. Nowhere is this more relevant than in university museums. Scotland is blessed with several, many recognised as of national significance. The Hunterian is by far the largest. University museums have to cater to a mixture of student, academic, special interest and general public audiences. In recent years, the widening access element has become more important.
The remit for The Hunterian is a case in point: to serve academic communities by supporting teaching and research using the collections; to share and validate their outputs; and to represent the university as an institution to wider audiences. The Hunterian is possibly best positioned of all Scottish, and most UK, university museums to deliver this. It is the oldest public museum in Scotland (dating from 1807), and draws substantial audiences to its public venues – in 2017 it broke the 200,000 mark for the first time. It has vast encyclopaedic collections. Based on my years of professional experience, I can claim that Glasgow and Scotland have in The Hunterian something truly world-class.
The Hunterian is in an exciting phase of its development: almost exactly a year ago, the new Hunterian Collections Study Centre was opened in the Kelvin Hall, itself an icon of Scottish culture. It is a truly special facility that transforms the ways in which the 1.5 million objects in its collections can be made accessible to ever-widening audiences. In its first year, there has already been substantial use of the facilities and many national and international colleagues have been amazed by the scale and quality of our laboratories, research and study rooms. The Hunterian has developed outreach links to younger audiences, a crucial pointer to the future. If museums and universities are to be living entities, they need to provide access for the students and academics of tomorrow.
I have been recruited to play a substantial role in what comes next: to move the public displays of The Hunterian into Kelvin Hall as well, and to create, with partners such as Glasgow Museums, Glasgow Life and the National Galleries of Scotland, a completely new, 21st century museum experience that will enhance the attraction of this city to its (inter)national audiences and, of course, showcase The Hunterian and the University of Glasgow as world-class institutions. Together we can expand our visitor numbers and greatly improve access across audiences.
There are, of course, major challenges ahead, most prominently, funding. The Kelvin Hall partnership has already shown what can be achieved, and there is the potential for even greater success through a joined-up approach from central and local government. University museums are more visible, more open and more successful than ever before. It is a picture to be proud of, and one to protect.
---
VIDEO

Our Director Steph Scholten talks about the importance of The Hunterian at Kelvin Hall.
First published: 20 January 2018