Making the most of a PG Open Day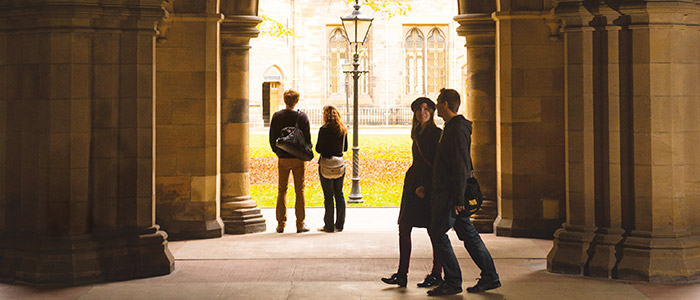 University open days are a vital opportunity to try out life at an institution for a day to see if you think it's the right fit for you. You could end up spending a few years of your life in that space, so dive in and make the most of the day. Ask questions. Take in the atmosphere on campus. Explore the facilities and city. Here are my recommendations for ensuring that you come away from campus knowing everything that you need to know in order to make a good decision.
Prepare in advance
Many universities send out or publish online brochures or apps that give times and venues for all the activities available, so before you arrive, get acquainted with what's on offer and plan your timetable to make sure you see everything that you want to see. At Glasgow we provide an Open Day App with a full list of all events, allowing you to create your own personalised schedule for the day
Meet academics in your subject areas of interest
You'll want to know what the teaching and supervision is going to be like, so visit academic stalls and attend any panel discussions in order to meet the researchers in your subject area of interest. Don't be shy; ask direct questions so you find out what you need to know.
Find out about finance
Don't miss the opportunity to discover any financing that could be available to help you with your costs. There can be different funding opportunities depending on where you live in the UK, plus every university will have a range of its own and some may even offer funded places. Mix and match whatever you can; it is possible to bundle multiple funding sources to maximise your coffers. At Glasgow's postgraduate Open Day, we have finance talks where you can find out how to research what funding, bursaries and scholarships are available and tips on making a strong application. Remember, some postgraduate courses have application fees, deposits and academic charges so include them in your calculations!
Ask a student
Many institutions will ask their current students to help out during open days, so if there are students running tours, or offering question and answer sessions on university life, take the chance to ask how they have made the most of their time as a postgraduate. They have gone through the same process that you are undertaking so are a great source of information and inspiration.
Take a tour
Are the facilities fit for your needs? Depending on your area of study, you may have specific requirements for research equipment, so take a tour of any relevant research and teaching spaces to see what's available. Beyond your academic requirements, you may also want to check out student accommodation, the University's sports facilities, library and social spaces.
See the city
Extend your exploration beyond the university campus to see whether you feel at home in the city. Hop on a bus tour, wander around the local cafes, parks, museums and shops and soak up the atmosphere. Can you see yourself living there?
And…relax
It can be a lot to take in on one day, so don't worry if you miss something, or forget to ask a question. You'll be able to find out more online, on social media, or you can contact someone at the university you're interested in if you have other questions. If your feet are sore and your head is full, take a seat in the university's postgraduate social space – at Glasgow that's our Gilchrist Postgraduate Club – chill out and take stock. Remember, it's better to be prepared and check out your options in advance so you have time to compare and consider your options before making a decision.
Good luck
As with most things, focus and perseverance pay dividends so invest the time and effort to achieve the best postgraduate outcome for you.
Register now for the University of Glasgow PG Open Day