As you make your way to the Queen Margaret Union at the end of University Avenue you pass a number of key teaching spaces in this area.
To the right of the James McCune Smith Learning Hub sits the towering Boyd Orr Building which serves as a general science building. It hosts two primary lecture theaters on it's ground floor plus several smaller lecture theatres and labs in the higher floor. The building is named for the leading nutritionist and Nobel Peace Prize winner Lord Boyd Orr of Brechin (1880-1971), a former student, Rector and Chancellor of the University.
Beyond the Boyd Orr Building on the right hand side sits The Molema Building (formerly the Gregory Building) which houses the School of Geographical and Earth Sciences as well as the School of Archaeology.
The Molema Building is most easily recognized by the large stone monument that stands outside its doors. The stones were originally part of a culvert on the West Highland Railway, re-cut for its present use.
Finally on the right hand side you will see the Sir Alwyn Williams Building which houses the School of Computer Sciences. The building was opened in 2007 and funded by the Science Research Investment Fund at a cost of £4.1m.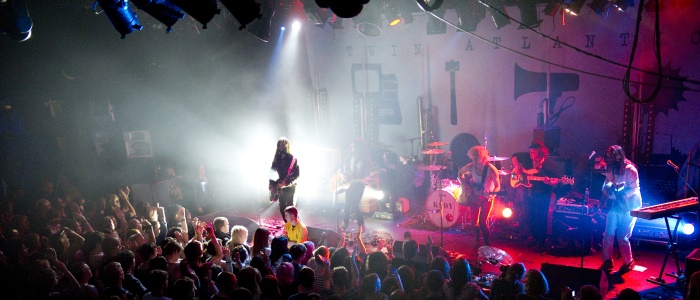 Queen Margaret Union (QMU)
The QMU
The Queen Margarent Union (QMU) is one of University of Glasgow's two student Unions and home to a legendary music venue that has hosted Nirvana, Queen and many more.
Although originally founded as the women's union, it is now open to all students at the University (students can have free membership to both). Facilities include study spaces, cafe, two bars and games room, and venue space for live music events/night club.
The QMU is also the host to many of the University's clubs and societies including the GU LGBTQ+ society.
To Continue: Follow Universty Gardens from the QMU back towards University Avenue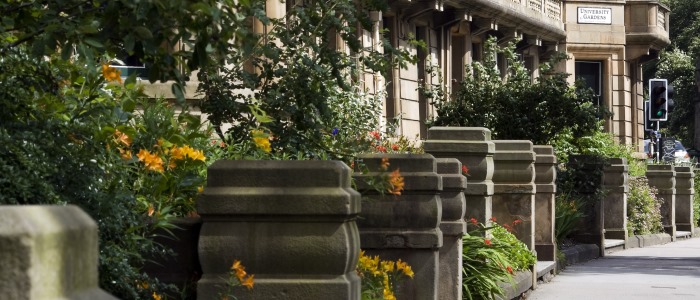 University Gardens
University Gardens is home to subjects in the College of Arts.
Most students who study Arts & Humanities degrees will have seminar groups and small lecture groups in one of these original tenement buildings. In addition to teaching space University Gardens also serves as the offices for university lecturers and administrative activity for the College of Arts.
To Continue: Continue down University Gardens until you reach the hill to the library on your left (opposite the University Gatehouse). Turn left up the hill towards the library.