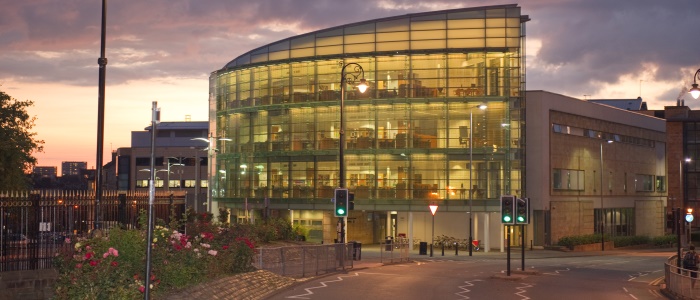 Science Way and The Wolfson Medical School Building
Science Way and The Wolfson Medical School Building
Science Way
The various building you can see on your left host Teaching and Lab space for most Science subjects at UofG - This area of the campus is affectionately known as Science Way.
The Graham Kerr Building has original lecture theatres and is home to zoology teaching and study spaces and the Hunterian Zoology Musuem.
On the left, beyond the Bower Building (housing administrative offices and teaching space for Biology) which faces onto University Avenue you can see The Kelvin Building for Physics and Astronomy – houses the Institute of Gravitational Research – research conducted here formed a key part in the detection of gravitational waves in September 2015, confirming Einstein's Theory of Relativity
The Joseph Black Building for chemistry, on the right hand side opposite the Kelvin Building, has world class labs and facilities.
Students who study Sciences will have their teaching divided into lectures (larger groups), seminars (smaller discussion/ study groups), and lab time.
The University of Glasgow has been associated with eight Nobel laureates, including six Nobel Prizes in Chemistry (Most recently in 2021), one Nobel Peace Prize and in 2010 a Nobel Prize in Medicine. For more information see our Men and Women of Fame.
The Wolfson Medical School Building
The Wolfson Medical School Building was purpose-built for medical and nursing students at the University. It houses mock wards and surgeries, SIM dolls, labs and a medical research library. Beside it are two modern buildings devoted to medical research.
Our Medicine students will also often make use of facilities at the Queen Elizabeth University Hospital (QEUH) on the south side of the river Clyde.
To the left of the Wolfson Medical School Building, on the opposite side of the road, you can also see the temporary home of Mathematics & Statistics, previously situated on the site where the James McCune Smith now stands.
To Continue: Turn towards the building on the other side of University Avenue