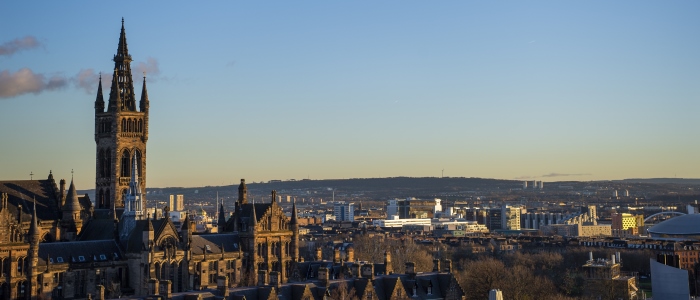 Pearce Lodge and James Watt South Building (Engineering)
Pearce Lodge and James Watt South Building
When the Old College buildings were demolished in 1870 part of the High Street entrance was carefully dismantled and preserved. In 1887 the stonework was brought to Gilmorehill with some elements preserved from the Old College - the arched gateway and the cornice to the right.
The building was named Pearce Lodge for Sir William Pearce of the Fairfield Shipbuilding & Engineering Co, who had donated funds for building.
Behind Pearce Lodge is the James Watt South Building, home to Aeronautical, Aerospace, Biomedical, Mechanical and Product Design Engineering. It is here that Students can design and build F1 cars to race at the international universities' Formula Student.
UGRacing is the University of Glasgow's Formula Student team; designing, building and racing a single-seat formula-style racecar each year and later seeing their creation roar to life at the Silverstone racetrack. The team is currently ranked 1st in Scotland, 6th in the UK and 11th worldwide.
To return to the SRC Welcome Point continue to walk up University Avenue until you reach the traffic lights at the top of the hill. Turn left through the Main Gate Entrance.
Finishing your Tour here?
Thank You for taking our self-guided tour, we hope you enjoyed your visit to our Campus!

If you should have any further questions you can visit the SRC Welcome Point where the tour began where the Welcome Desk staff will gladly take your questions.

Additionally If you would like to chat to our current Students, Staff or Alumni about any of our degree programmes they would be more than happy to answer your questions - Chat to our Students, Staff and Alumni
Feel free to take some time to look at any area of the Campus and explore all the local area has to offer;

- Kelvingrove Park and the Botanical Gardens offer beautiful walks.
- Explore The Hunterian Museum, The Hunterian Art Gallery or Kelvingrove Museum
- If you are looking for refreshments you can visit any of our on-campus cafés (1 The Square in front of the SRC Welcome Point, The James McCune Smith, GUU, QMU) or nearby Byres Road has a plethora of bars, restaurants, cafés and shops to explore!
If you have any feedback for us please click here to fill out a quick online survey.