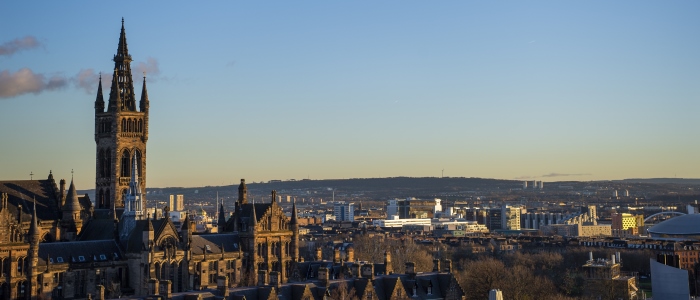 The SRC Welcome Point and McIntyre Building
The SRC Welcome Point is our visitor information centre based in the McIntyre Building (beside the University's Main Gatehouse which is the base for our 24hr Campus Security) with friendly staff on hand to answer questions, give advice and provide directions relating to the campus. The SRC are based here.
The SRC (Students' Representative Council) is one of our four student-led organisations on Campus in addition to GUSA (Glasgow University Sports Association), GUU (Glasgow University Union) and QMU (Queen Margaret Union). The SRC is recognised as the representative body for students registered at the University. The SRC provides a number of services, including the Advice Centre, which offers free, professional and independent advice to students on a variety of issues including academic appeals, housing and financial advice. It also operates many clubs, societies and volunteering opportunities.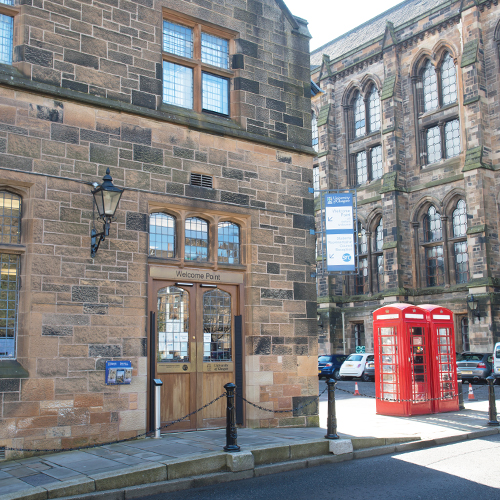 The McIntyre Building was designed by Sir John Burnet in the 1880s and during its history has been the site of both the University's Mens and Womens Unions.
Beside this building you will notice our iconic Red British Telephone Boxes which are located here for a very special reason. These iconic phoneboxes were designed by Sir Giles Gilbert Scott (the architect of Battersea Power Station and Liverpool Cathedral)- the grandson of Sir George Gilbert Scott who designed the main building you can see behind.
Did you know that the University of Glasgow was not always here on Gilmorehill?
The original home of the University was the Old College site which was located in the east end of the city centre on High Street and it remained the home of the University until the move to Gilmorehill in the city's west end in 1870. This move was spurred on by the ongoing industrialisation of the High Street and its surrounding area. The new campus now offered the potential for further expansion and development

Work began on the Gilbert Scott Building you see behind in 1866. At the time of its development, it was the second largest structure being built in the United Kingdom (the largest being the Houses of Parliament).
To Continue: From the doors of the Welcome Point walk towards the Gilbert Scott Building and around the MacIntyre Building to the war memorial at its far side, passing the red phone boxes on the way. Approach the gilded iron gates on University Avenue facing the Gilbert Scott Building