Current ICM opportunities
Erasmus+ ICM success
Since 1996, we have been successful in receiving Erasmus+ International Credit Mobility funding so that we can work with partners around the world.
In 2019, we secured a €1.5 million Erasmus+ International Credit Mobility grant, allowing 358 staff and students to undertake a period of time abroad. More information on destinations and on how to apply for funding will be available shortly.
In April 2019 we held a Staff Training Week on the theme of 'Delivering the Student Experience' (see below).
Current ICM opportunities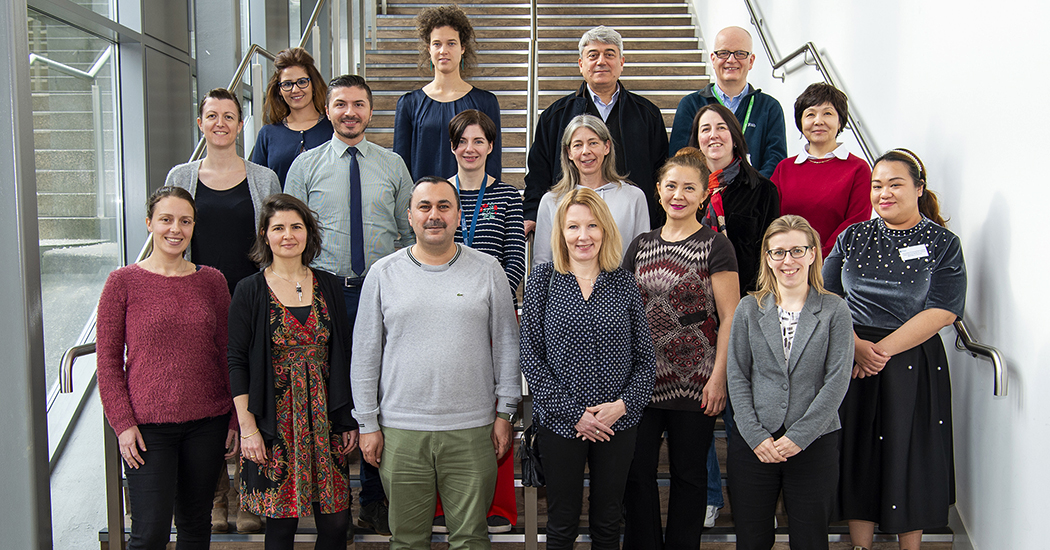 2020 ICM staff training week 'Mobility for employability'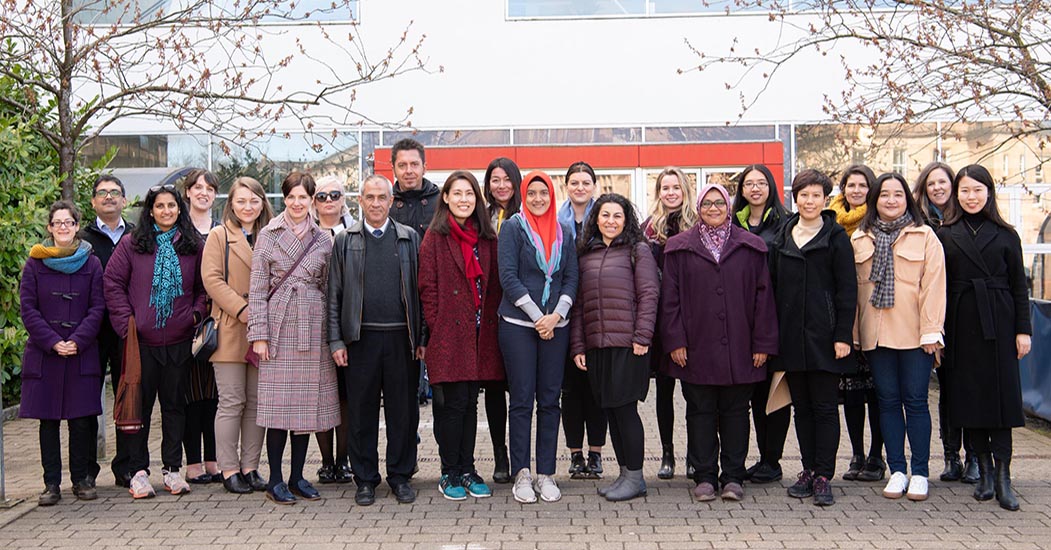 2019 ICM staff training week ' Delivering the student experience'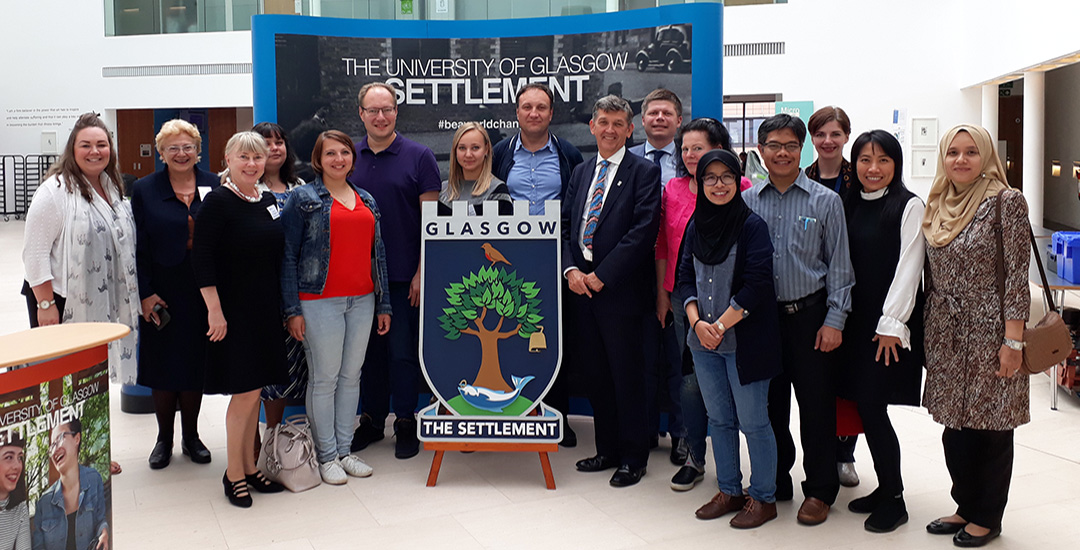 Erasmus+ ICM Staff Training Week, University of Glasgow, July 2018‌
University of Glasgow staff member Mark Furse visited Universitas Gadjah Mada using ICM in 2017 (Borobudur, Buddhist temple, Indonesia)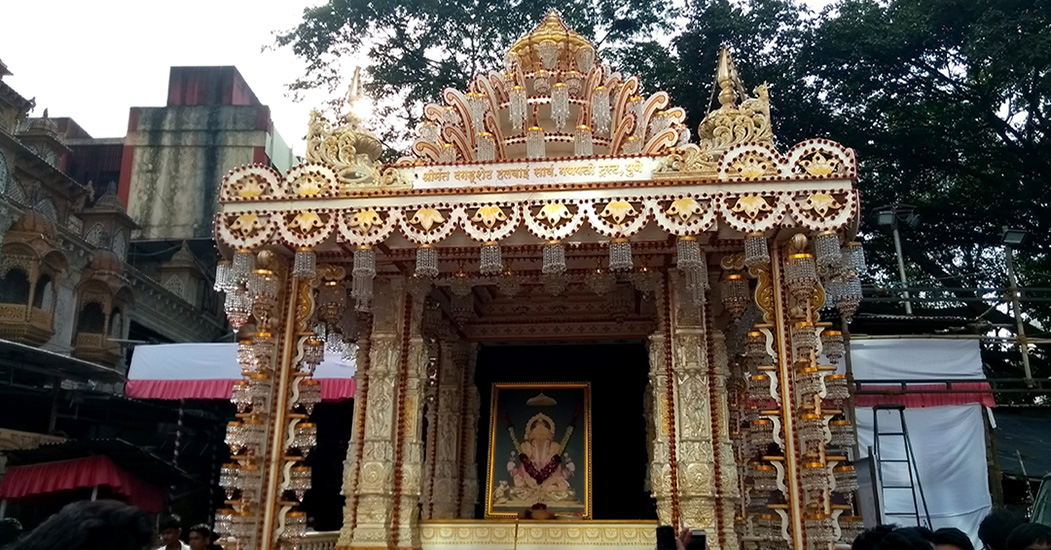 University of Glasgow student on exchange with our Erasmus+ ICM partners the Indian Institute of Science, Education and Research, Pune, November 2018
Examples of successful Glasgow staff funding
Irena Baboi visited Kimep University in Kazakhstan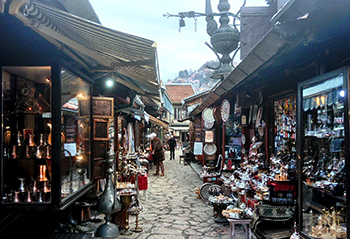 "My semester at the Department of Political Science gave me the chance to consult material difficult to access, but also, and more importantly, to benefit immensely from the research experience of an academic staff that specialises on topics related to my thesis.
Alongside the academic benefits, undertaking an Erasmus+ ICM contributed greatly to my personal and professional development. My semester in Sarajevo allowed me to take part in language lessons, improve my research and presentation skills, and network in an environment that will be part of my research for years to come. As a result of this exchange, I have gained a level of knowledge, skills and experience that would be highly difficult to obtain through any other opportunity, and I am now significantly better prepared to face any future challenges.
Sarajevo is a vibrant and exciting city, and it is nearly impossible to find yourself running out of places to see and things to do. The buildings, the food, the attractions and the history all combine to make it a city that is always interesting, surprising and appealing to explore. What Sarajevo deserves to be best known for, however, is its people. Bosnians are some of the nicest, friendliest, and most helpful people I have ever met, and they make you feel welcome everywhere you go.
PhD student, Central and East European Studies
September to December 2019
Paula Olmo visited Kimep University in Kazakhstan

"A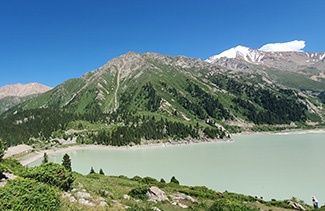 s part of the International Partnership's team, I felt that a visit a partner University could contribute to not just the team, but add to my own personal perspective of working internationally.
We applied to visit KIMEP University in Almaty, Kazakhstan, as we heard they have a very well stablished Internationalisation team. The application process was very straightforward and we received valuable support from the Go Abroad team. The staff that we met in Kazakhstan were friendly, kind and willing to spend time with us and talk through their internationalisation process and student engagement activities.
On a personal level, I felt that leaving my desk to meet people face-to-face was very enriching experience. The culture, food, nature and incredible landscapes caught me by surprise as I personally did not know much about Kazakhstan. This opportunity has been priceless for me as it has increased my desire to travel and explore, and how these things directly benefit my job."
Paula Olmo, Internationalisation Assistant, External Relations
July 2019
Carolyn Donaldson visited Nankai University in China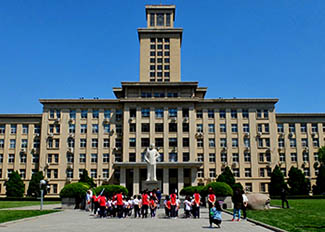 "I took advantage of every opportunity to immerse myself in Chinese culture and cuisine, visiting cultural sites before work, during lunch breaks, evenings, and at the weekend. I saw many wonders and enjoyed the friendliness of the Chinese people.
I felt I gained a greater understanding of the cultural background of our Chinese PGT and PGR students."
Carolyn Donaldson, PG Administrator for the School of Modern Languages,
August 2019


Mark Furse visited Universitas Gadjah Mada (UGM) in Yogyakarta, Indonesia
"‌I spent a period in April 2017 at the Law Faculty of Universitas Gadjah Mada (UGM) in Yogyakarta, Indonesia, following up from a previous visit undertaken on behalf of the College of Social Sciences in 2016.
The primary engagement was teaching on the International Business Law course of the final year undergraduate students - in English, of course. I ended up acting as the keynote speaker at an event examining the law and practice relating to Cartels [see attached photo], where I got the opportunity to learn more about the position in Indonesia in my subject, and to meet with some key players. This also led to the offer of a PhD scholarship from the Indonesian Competition Authority for a member of staff to study in Glasgow under my supervision.
I engaged quite extensively with local colleagues, discussing in particular publication in international journals, and greatly enjoyed my time. In addition to being academically rewarding, the visit was culturally interesting and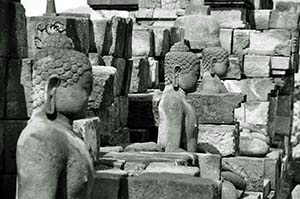 relaxing. The local food was very good, the weather stunning, and trips to Borobudur [attached photo] and Merapi volcano - which lowers over the city, were highlights.
I'm going back in April 2018 to do more extensive teaching with sole responsibility for a short postgraduate course, and hope to build on this partnership at the School and College level."
Mark Furse, Professor of Competition Law and Policy
November 2017


Guillaume Tiberghien received ICM funding to visit Udayana University, Indonesia
As a lecturer in Tourism at the Dumfries campus, being able to go to Indonesia through the ICM program was useful, interesting and enjoyable. I chose to go to Indonesia as one of my roles for the School of Interdisciplinary Studies is to contribute to the internationalisation strategy of the school and following up on the 1+1 partnership for the Masters in Tourism signed with the University of Udayana in Indonesia.

The ICM application process was relatively straightforward and allowed me to teach in a different environment in front of PGT/PGR Indonesian students, as well as further develop international collaboration with Indonesian partners. I am since a project leader for a reverse ICM project involving knowledge exchange seminars with a delegation of lecturers and a PGR student from Udayana University coming to Dumfries in April 2018.
Guillaume Tiberghien, Lecturer in Tourism (School of Interdisciplinary Studies)
November 2017
Adrian Florea received ICM funding to visit Prishtina, Kosovo
I chose Prishtina (Kosovo) as my Erasmus+ destination for several reasons:
to share my research on the success of self-determination movements with audiences in a newly-born (but partially-recognised) state;
to make new professional contacts; to reinforce the cooperation with a partner institution (University of Prishtina);
to establish initial contacts with interviewees for a future project;
to motivate students from the partner institution to study abroad.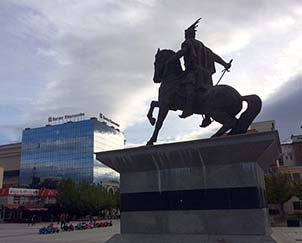 The application process was straightforward and the entire administrative process was quite smooth. Overall, I had an enjoyable and productive time in Prishtina where I met with colleagues and students at the University of Prishtina, MPs, NGO representatives, and members of a vibrant civil society. The city itself is very welcoming to foreign visitors and offers some of the best cafes in the region.

‌I would strongly encourage staff and PGRs to consider the ICM mobility: not only does it consolidate the collaboration with the partner institution, it also fosters internationalisation and will likely open up exciting avenues for future research projects.
Adrian Florea, Lecturer in International Relations (School of Social and Political Sciences)
December 2017
2020 staff training week - Mobility for Employability
This training week focussed on the themes of student mobility, and employability after graduation.
Sessions allowed participants to share best-practice and understand how the Careers Service and the Study Abroad and Exchanges team at the University of Glasgow work together to develop opportunities for students and graduates.
We welcomed delegates from our partners including
KIMEP, Kazakhstan;
Nankai University, China;
the University of Belgrade, Serbia;
the University of Sarajevo, Bosnia and Herzegovina;
McGill University, Canada;
Ilia State University, Georgia;
Mahidol University, Thailand;
Tel Aviv University, Israel;
Duhok University, Iraq;
the University of Helsinki, Finland;
TU Delft, the Netherlands.
2019 staff training week - Delivering the Student Experience
I enjoyed the programme and gained valuable knowledge on internationalisation, ways to increase outgoing mobility and met very nice people.

Nailya Akhmarova, KIMEP, Kazakhstan
Thanks to our international partners around the world who travelled to Glasgow to take part in our 2019 ICM Staff Training Week:
Bosnia and Herzegovina, University of Sarajevo
China, Nankai University
Georgia, Ilia State University
India, IISER, Pune
Kazakhstan, KIMEP University
Malaysia, University of Malaya and Universiti Sains Malaysia
Palestine, Islamic University of Gaza
Serbia, University of Belgrade
Thailand, Mahidol University
USA, Duke University and Princeton University
The event successfully allowed staff from all areas to work together to exchange ideas.
Over the week, delegates shared best-practice and learnt about the University of Glasgow's philosophy and processes under the broad theme of 'the student experience'. This included sessions on enhancing the student experience; alumni development; widening participation; supporting Student Mental Health and a a panel discussion on Student Services: creating a positive wellbeing culture for students.
Some participants were able to attend the University of Glasgow's , on the theme of 'Blended and Active Learning'.
The closing keynote address was delivered by Professor William Cushley, Vice Principal for Internationalisation on 'Internationalisation: A summary of the University of Glasgow's achievements and challenges in creating a global campus'.
"I found the visit to be stimulating, and inspirational at the same time. The Teaching and Learning conference at Glasgow was the highlight of my trip, where I could see the efforts Glasgow is taking to enhance the teaching abilities of their educators. I could meet and network a couple of great people at the conference and build relations to start a dialogue between IISER and Glasgow."

Neeraja Dashaputre, IISER, India
"Greatly appreciated the knowledge sharing by the University of Glasgow on the student experience, campus development, widening participation, supporting student mental health, internationalisation. It was an enjoyable, fruitful and productive week at the University of Glasgow."

Sin Yin Teh, University Sains Malaysia
2018 visiting staff training weeks
In 2018 the University of Glasgow has hosted two Staff Training Weeks, welcoming delegates from our Erasmus+ ICM partners around the world. The delegates learnt about the culture and practice of Internationalisation at the University of Glasgow, and some also participated in the 11th annual Learning and Teaching Conference on 'Learning Spaces'.
The institutions represented included:
KIMEP JSC, Kazakhstan;
Lobachevsky State University of Nizhni Novgorod, Russia;
University of Belgrade, Serbia
National University of Kyiv-Mohyla Academy from Ukraine
University of Sarajevo, Bosnia and Herzegovina and
from Indonesia the universities of Udayana, Andalas, Sumatera Utara, Gadjah Mada and Jember.
The delegates have had the opportunity to learn about the culture and practice of Internationalisation at the University of Glasgow, and some have also participated in the 11th annual Learning and Teaching Conference on 'Learning Spaces'.

Dinara Nurmanova, KIMEP University, Kazakhstan
"I would like first of all to extend my sincere gratitude to all of you, the organizers of International Staff Week for inviting me, giving me the opportunity to participate in such program, to attend the conference on teaching and learning, to be awarded Erasmus grant, to visit Glasgow and Loch Lomond."

Esther Nababan, Universitas Sumatera Utara, Indonesia
"Glasgow is honestly too cold for an Indonesian like me, even in its summer, but the warm welcome from the people there made me comfortable and able to learn well."

Eka Firmansyah, Universitas Gadjah Mada, Indonesia