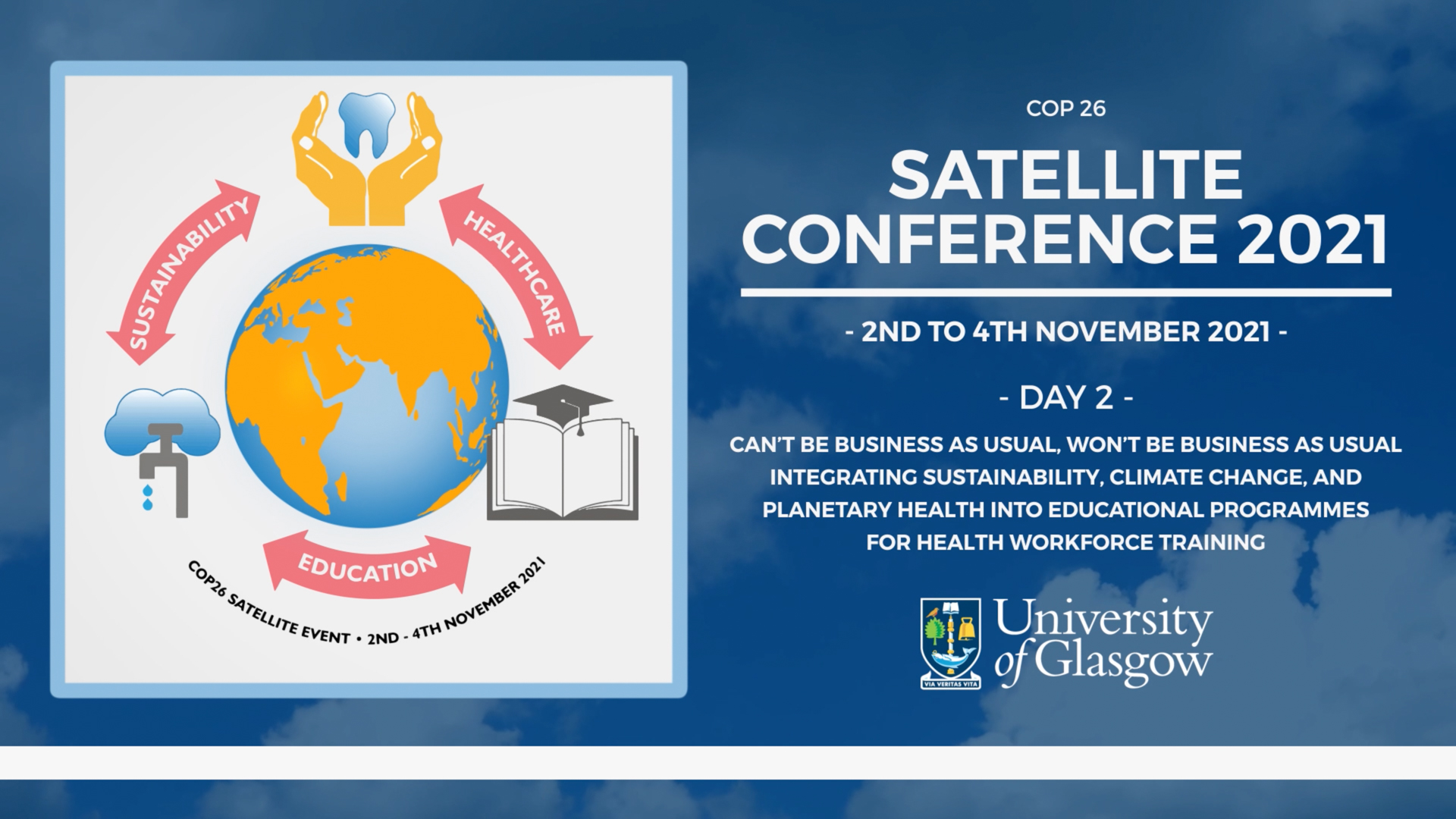 Can't be business as usual, won't be business as usual
Day 2 focused on the integration of sustainability and planetary health in educational programmes for health workforce training.
Throughout the 2020 / 2021 academic year, dental students from 21 dental schools around the world, and members of oral health organisations have been working in partnership on a project that considers oral health in the context of the United Nations 17 Sustainable Development Goals. Participating students and groups presented unique perspectives from their own country, providing a 'snapshot of dentistry and oral health care' around the world. Their presentations provided an insight into ways of collectively pursuing the aims and ambitions of the WHO Oral Health Resolution.
The issues were discussed from the perspective of both staff and students across a variety of professional groups, culminating in the launch of a Student / Youth Manifesto for Sustainable Oral Health.
Part 1: Schedule
Timestamp
Title
Speaker
0:00:00 - 0:04:12
Welcome & Introductory comments
Jeremy Bagg, University of Glasgow & Julian Fisher, Charite University, Berlin
0:04:12 - 1:01:13
Integrating a Social Determinants of Health Approach into Health Workforce Education and Training

Onyema Ajuebor, WHO Health Workforce Department, Nicole Valentine, WHO Health Department of Social Determinants of Health, Cleopatra Matanhire, University of Zimbabwe

1:01:13 - 1:38:05
Panel Discussion: Global Oral Health; learning with and from others

Moderator: Jeremy Bagg

Panellists: Corrao Paganell, University of Brescia Italy, Michael Glick, University of Pennsylvania, USA, Agnes Gatarayiha, University of Rwanda & Barry Quinn, ADEE Secretary General, University of Liverpool
1:38:05 -
It can't be business as usual; it won't be business as usual
1:38:05 - 1:40:28
Introducing Sustainable Oral Health
Julian Fisher
1:40:28 - 2:02:58
Youth-led oral health manifesto and Call to Action
Zino Volkmann, Youth for Sustainable Oral Health
2:02:58 - 2:30:50
Perspectives from a working party for The International Federation of Dental Hygienists
Melaine Hayes, Secretary for the IFDH
2:30:50 - 2:53:50
Global contextualisation: Looking beyond limitations to possibilities: We can all play our part, and together we can make a difference
Amanda Mclaughlin, International Coalition: Delivering Community Oral Health
2:53:50 - 3:17:01
Can't be business as usual, won't be business as usual
Arish Naresh, President, IOHA, & Zaeni Dahlan, Board Executive, IOHA
3:17:01 - 3:21:01
Summing up
Julian Fisher
Part 2: Schedule
| Timestamp | Title | Speaker |
| --- | --- | --- |
| 0:00:00 - 1:46:00 | Presentations by students from dental schools across the globe, mapping oral health within, between and across 17 SDGs | Artemy Korobkeev & Sergei Kolesnikov, R. Thivaharan, Hikaru, Okubo, Raksanan Karawekpanyawong, Tin Zar Tun, Ahmend Abu Hilal, Agnivesh Prakash, Sayed Amir Shabani, Araqelyan Artur, Maximilian Linker, Ovido Saracutu, Benedetta Salis |
| 1:46:00 - 2:47:00 | Presentations by students from dental schools across the globe, mapping oral health within, between and across 17 SDGs | Gillian Leslie, Mattheus Filgueriras, Juan Carlon Cornejo Lujan, Karina Velasco, Alexis Charnay, Nyachio James Johnstone, Jean Michel Habumugisha |
| 2:47:00 - 3:17:08 | Launch of Student Manifesto and Call to Action | James Coughlan, Milena Hegenauer & Zino Volkmann, Youth for Sustainable Oral Health |
| 3:17:08 - 3:39:19 | Oral Health and Sustainability in Dental Education: How, When, Why? | Grant Creaney & Jeremy Bagg, University of Glasgow |
| 3:39:19 - 3:49:35 | Summary of Day 2 | Jeremy Bagg & Julian Fisher |