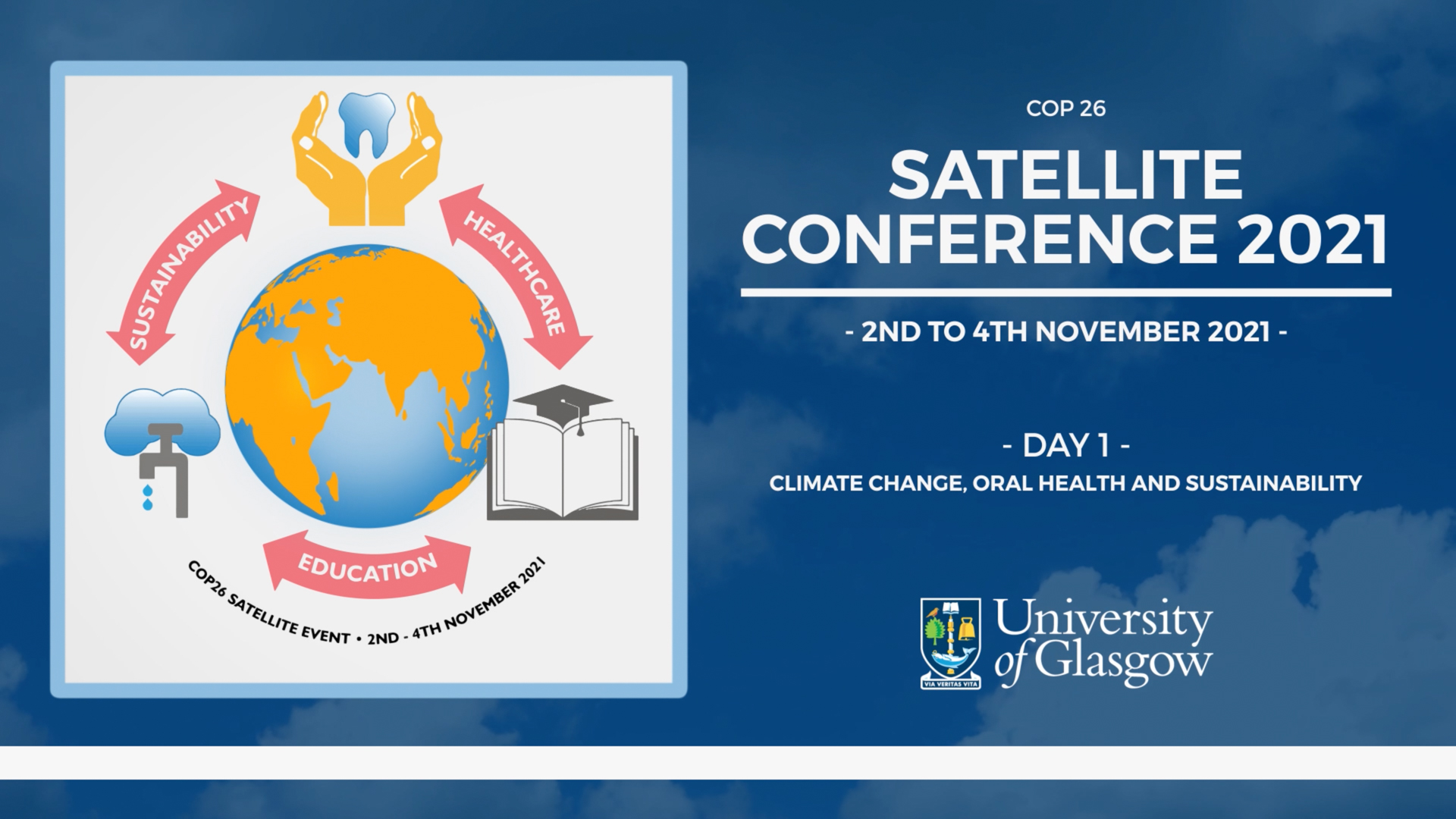 Climate Change, Oral Health and Sustainability
Day 1 took as its theme 'Oral Health'. With high level representation from the World Health Organisation (WHO), it explored the much-welcomed approaches of the WHO that are embodied in the recently adopted 2021 WHO Oral Health Resolution, and in the draft Global Strategy for Oral Health.
The speakers provided examples of national plans and ongoing activities in low- and middle-income countries, including policy development and efforts to gain recognition of the aggressive and destructive condition 'noma' as a Neglected Tropical Disease.
There were subsequent presentations on innovative 'new ways of thinking and working' around sustainability in delivery of oral and dental care, with a major focus on prevention of oral disease, minimal intervention techniques for tooth restoration and universal availability of essential medicines relevant to oral health.
Part 1: Schedule
Timestamp
Title
Speaker
0:00:00 - 0:08:30
Introduction and Welcome
Jeremy Bagg, University of Glasgow & Julian Fisher, Charite University, Berlin
0:08:30 - 0:14:15
Welcome address from Scottish Government
Jenny Gilruth MSP, Scottish Government Minister for Europe & International Development
0:14:15 - 0:43:50
Keynote: The WHO Oral Health Resolution (2021) - paving the way for better oral health
Benoit Varenne, Oral Health Programme Officer, World Health Organisation
0:43:50 - 1:12:40
Keynote: Vision 2030, tackling transformational changes and trends in the global healthcare environment
Professor Ihsane Ben Yahya, FDI President
1:12:40 - 3:10:01
Scotland-Malawi partnership working - putting the WHO Oral Health Resolution in Practice
1:14:26 - 1:36:30
The Scottish Government-funded MalDent Project: a UofG/KUHeS partnership
Mwapatsa Mipando, Kamuzu University of Health Sciences & Jeremy Bagg, University of Glasgow Dental School
1:36:30 - 1:56:45
Our health policy development in Malawi
Jones Masiye, Ministry of Health, Malawi Government
1:56:45 - 2:11:59
Raising the profile of Oral Health as a political priority
Dr Queen Dube, Chief of Health Services, Ministry of Health, Malawi Government
2:11:59 - 3:10:01
Roundtable Discussion: Implementation of the WHO resolution; opportunities and challenges, with reflections from the African Region

Moderators: Benoit Varenne & Yaku Makino

Roundtable participants: Noel Kasomekera (Malawi), Karebu Bizumuremyo (Rwanda), Chrispinus Mumena (Zambia) & Cleopatra Matanhire (Zimbabwe)
Part 2: Schedule
| Timestamp | Title | Speaker |
| --- | --- | --- |
| 0:00:00 - 1:33:00 | Noma: a renewed focus on action | |
| 0:04:30 - 0:09:27 | Short film about Noma; `Restoring Dignity` | Claire Jeantet, MSF Noma Campaign Manager |
| 0:09:27 - 0:29:30 | Making the case for action on Noma | Gloria Uzoigwe, Boladale Algone, Nigerian Ministry of Health |
| 0:29:30 - 0:42:30 | Noma as a Neglected Tropical Disease | Yuka Makino, Oral Health Technical Officer, WHO Africa |
| 0:42:30 - 0:55:30 | Community action on Noma | Petra Raschkewitz, Hilfsaktion Noma (HAN) |
| 0:55:30 - | Managing patients with Noma in Nigeria | Adetula Ife, Nigerian Dentist |
| 1:09:06 - 1:33:00 | Roundtable Discussion on Noma | |
| 1:33:00 - 3:03:20 | Essential Medicines: strategies and action for public health and practice | |
| 1:33:00 - 1:58:15 | Basic Package of Oral Care | Lorna Macpherson, University of Glasgow |
| 1:58:15 - 2:10:27 | Minimal Intervention/Glass ionomer cement | Avijit Banerjee, Kings College, London |
| 2:10:27 - 2:24:57 | Toothpaste/oral biome - NCD | Richard Hogan, Colgate-Palmolive Dental Health Unit, UK |
| 2:24:57 - 2:35:56 | Silver diamine Fluoride | Bethy Turton, Boston University Henry M. Goldman School of Dental Medicine, USA |
| 2:35:56 - 2:44:26 | Emerging biomimetic technologies in oral care | Anahita Jablonski-Momeni, Philipps University of Marberg, Germany |
| 2:44:26 - 3:03:20 | Chile's Sembrando Sonrisas Programme | Andres Celis Sersen, University of Chile Dental Faculty |
| 3:03:20 - 4:59:38 | The challenge of sustainability in dentistry and oral healthcare | |
| 3:03:20 - 4:07:25 | `Sustainable Dentistry: a need for change` - presentations and roundtable discussions | Brett Duane & colleagues, Trinity College, Dublin |
| 4:07:25 - 4:39:17 | Keynote: Artificial Intelligence and sustainability; implications for dentistry and oral health care | Falk Schwendicke, Charite University, Berlin |
| 4:39:17 - 4:59:38 | Keynote: Sustainability in General Dental Practice | Brett Duane, Trinity College, Dublin |
| 4:59:38 - 5:07:13 | Day 1 Summary | Julian Fisher |