Venue Map
Venue Map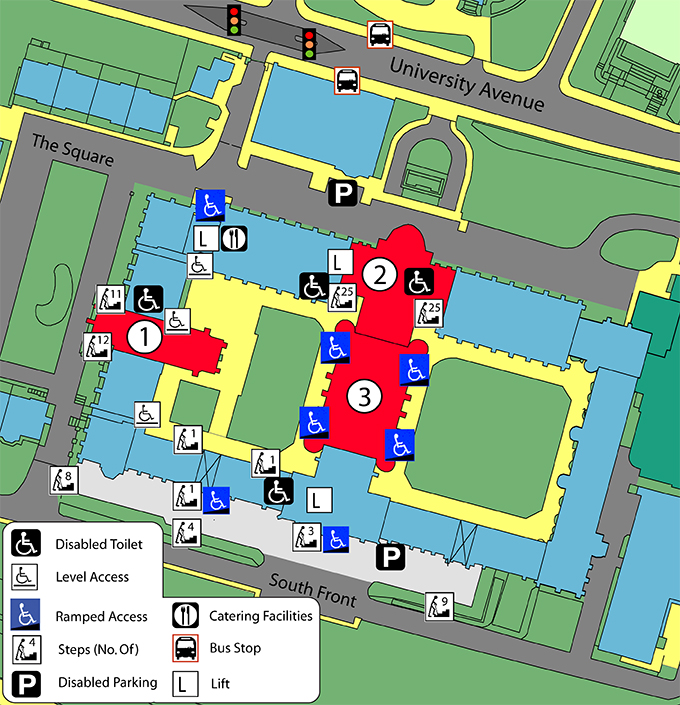 All University venues have access for concert-goers less able to manage the stairs. If you require directions for lifts or ramps, or help on arrival, please telephone in advance to Central Services on 0141 330 4282.

Venue #1: University Memorial Chapel
The Chapel is home to both the Chapel Choir and University Organist Kevin Bowyer. Enter via the main gate, turn right onto the square and the Chapel is on your left.


Venue #2: University Concert Hall
The Concert Hall is the venue for the Thursday lunchtime concert series and many other Music in the University events. Enter via the main gate, turn left to enter the main building at the Gift Shop Undercroft and ascend the stairs to the quadrangle. Lift access is also available to Level 2 from the Undercroft. The Concert Hall is located directly above the Visitors' Centre.


Venue #3: Bute Hall
Larger concerts take place in the Bute Hall at the heart of the University's main building. Enter the main building as for the Concert Hall and follow signs for Bute Hall.

Other venues
Occasionally other venues on campus are used for public performances these include...

The School of Culture & Creative Arts - Music
The School of Culture & Creative Arts, Music Building at 14 University Gardens hosts a number of public talks, lectures and small recitals throughout the year.


Kelvin Gallery
The Kelvin Gallery is in the Main Building. Enter the building at the entrance for the Gilchrist Postgraduate Club (across from the Main Gate) and take the stairs or lift to the 2nd floor.