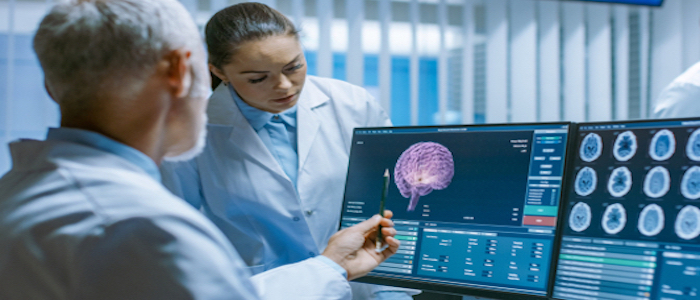 Advanced Imaging - Radiogenomics
The Radiogenomics project is developing new artificial intelligence (AI) techniques that relate features from medical images with genetic data to enhance the diagnostic information available from scanning methods such as MRI, x-ray and ultrasound. This project supports companies developing AI for advanced analysis of medical images, helping to better inform clinical decisions, allowing for earlier diagnosis than previously possible and leading to better patient outcomes.
Large amounts of information can be extracted from medical images using artificial intelligence techniques and machine learning. This information can be useful in the field of radiogenomics, an innovative and emerging field of research that combines the information from medical imaging scans alongside that of genomic data, the information in a person's DNA. It is anticipated that relating these two sources of data to each other will improve the detection and diagnosis of diseases such as cancer.
The Radiogenomics project, a collaboration between Canon Medical Research Europe, researchers from the University of Glasgow and NHS clinicians, evaluates this precision medicine approach with real clinical data. By reducing barriers to testing AI techniques in a clinical setting this project is encouraging the growth of companies developing new AI technologies for early disease detection, delivering economic benefits to Govan and Glasgow through increased investment and job creation in the field of medical data science.
The testing of radiogenomics as a clinical diagnostic technique will accelerate its integration into routine use at the Queen Elizabeth University Hospital. Patients will benefit from techniques that have the potential to uncover disease characteristics in medical images that cannot be identified by human vision alone which will enhance clinical decision making and ultimately, delivery better healthcare outcomes.
This project works with routine health record data through the West of Scotland Safe Haven.

The Safe Haven operates to strict privacy standards and provides secure access to NHS clinical data. The service enables research while respecting patient confidentiality. Data remains under the control of the NHS and complies with legislative and NHS policies.

Find out more about the Safe Haven here.