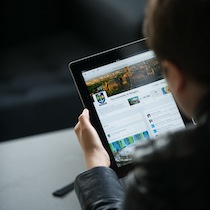 From digital content creation through data audit, digital forensics and information management, the College of Arts is good at going digital.
The College of Arts engages with everyone from small architectural practices and independent video game producers to Fortune 500 financial corporations and national public sector bodies.
Our Digital expertise falls under three main areas: risk assessment and digital asset management; computer forensics; and custom content management systems.
We provide business with expert services to assess risks. As well as auditing data and infrastructure, we can make policy and procedure recommendations to improve asset management. This reduces losses, maximises returns and gives every business the capability to preserve information digitally in the long term.
Sophisticated computer crimes put a globally networked society at risk. The increasing impact of technological crime highlights the need for highly competent computer forensic analysts. The College of Arts confronts this problem through a blend of computer and legal expertise.
We regularly work with the cultural heritage sector – museums, libraries, and archives – giving them specifically tailored advice on digitisation. Developing mobile web interfaces to give researchers access to data in new ways and places is of particular interest to us. There is a solution for every situation.
Helped by our understanding of long-term digital preservation, digital workflows and access requirements we are expert at producing custom, open source, online content management systems. From simple dynamic sites through to complex systems, we aim to provide systems that not only exceed user expectations but are sustainable, long-term solutions.
More recently, we have begun working with the video games industry, to investigate the educational benefits of gaming and encourage school children to get into the growing UK games industry. One of the initial programmes involved creating a physics based video game that highlights the importance of taking STEM (science, technology, engineering and maths) subjects at school.
We are as comfortable working with sole traders as multinational corporations, with advising third sector organisations as government ministers, in all cases taking the time to understand what you need and why you need it.