KE Theme: Cultural Education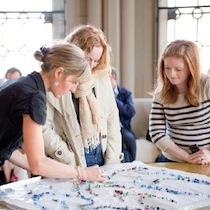 Cultural Education encompasses the work done by the College of Arts through formal and informal learning activities. Through the University's collections, particularly those of the Hunterian, the College of Arts taps into a resource for research, teaching and knowledge exchange that attracts scholars and visitors from around the world. Using Cultural Education, we offer opportunities, reach audiences and achieve impacts beyond the usual routes and processes of engagement taken elsewhere.
Partnership with the Centre for Open Studies allows the Hunterian to deliver innovative research. The Centre offers collaborative and interdisciplinary research opportunities, credit bearing and non-credit bearing courses, and lectures and events aligned with world-class collections and the Centre's strategic objectives. This contributes to cultural life in the West of Scotland by taking scholarship to the wider community.
Alongside secondary schools, The Hunterian works to develop sustainable and beneficial cultural and museum education. This is achieved in collaboration with Glasgow Museums (Glasgow Life), Local Education Authorities and Schools of Education from other universities in Scotland. In 2013/14, the Hunterian will begin a pilot initiative in partnership with Glasgow City Council Education Services and selected local secondary schools with low participation in Higher Education.
The College of Arts has also been engaging directly with Education Scotland, the Scottish Qualifications Authority (SQA) and the Scottish Association of Teachers of History (SATH). We have sought to ensure that the Scottish secondary school history curriculum reflects up-to-date academic perspectives and to ensure that the teaching/learning experience in the secondary schools is as informative and engaging as possible.
Christie's Education is an affiliated institute of the University of Glasgow, and a subsidiary of Christie's International, the auction house founded by James Christie in the 18th Century. Covering both undergraduate and postgraduate we have run joint programmes with Christie's since 1987, when a joint Master's programme in the Decorative Arts was established with History of Art.
We also support lifelong learning through The Hunterian, which has identified a number of areas of focus for its Cultural Education activities. For researchers and the student population, Higher and Continuing Education provide informal and formal learning communities. Importantly, adult learners are also able to engage through the Centre for Open Studies.
In addition, collections and current active research within the University provide directions for the Glasgow Science Festival. This festival will deliver ongoing public engagement through activities and opportunities aimed at schools, the general public, the student population and target specialist audiences.
The knowledge base within the College of Arts, partnered with the Hunterian collections, represents a cultural asset with national and international reach. As a result, we are well placed to provide an intellectual and stimulating learning environment for a wide range of learners.