Celebration for Dauvit Broun
Issued: Mon, 04 Dec 2017 17:00:00 GMT
The University of Glasgow held a reception to celebrate the election of one of the College of Arts leading professors to an elected Fellowship of worldwide academics.
Dauvit ('Davie') Broun, Professor of Scottish History and Director of ArtsLab, was recently named as a Fellow of the British Academy (FBA).
He has joined around 1400 leading national and international academics in Humanities and Social Sciences.
Professor Broun, who joined the University of Glasgow in 1990, received the British Academy accolade for his world-leading research in medieval Scottish History.
He was joined by dozens of colleagues from across the College and University for the reception to celebrate his election, held on Thursday 30 November 2017.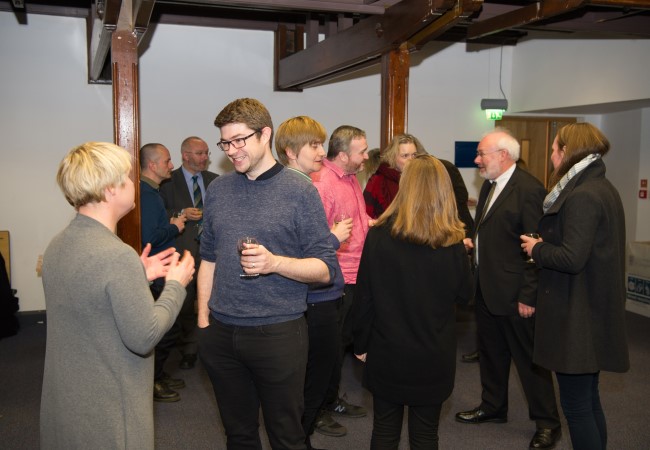 Ground breaking
Professor Sir Anton Muscatelli, the Principal and Vice-Chancellor, who spoke at the celebration, said: "Dauvit's election is recognition of his academic achievement as one of the leading UK medieval Scottish historians. It is also recognition of his collaborative and interdisciplinary approach to scholarship and the pioneering spirit that underpins all he does. This is probably best seen in the creation of the ground breaking People of Medieval Scotland project.
"Throughout his career, Dauvit has remained loyal to the University of Glasgow giving generously of his time, talents and friendship, while sharing his vision to transform and redefine the discipline of History in innovative ways. This recognition is richly deserved and I know Dauvit will be a huge asset to the Academy, just as he continues to be to us."
Professor Broun, speaking after the event, said: "My entire academic career has been at the University, since I arrived in 1990 as a lecturer in Scottish history with only two book reviews to my name.
"Everything I have achieved is therefore a reflection of the company I have kept all these years - academics, students and professional and administrative staff - as well as being in a University with clear commitment to Arts & Humanities.
"I firmly believe that I would not have reached a position where I'd have been elected an FBA had I been anywhere else except the College of Arts in the University of Glasgow.
"I am extremely grateful to the College for organising this celebration, and to the Principal for his very kind words, and above all to so many colleagues for coming and sharing this occasion with me."
Tremendous achievement
Dauvit follows in the footsteps of Professor John Butt and Professor Nigel Leask – in the fields of Music and English Literature respectively – in being elected to the British Academy from the University's College of Arts.
Professor Roibeard Ó Maolalaigh, Vice-Principal and Head of the College of Arts, said: "We are very proud and pleased for Dauvit. Tonight is our way of celebrating with him this tremendous achievement.
"Dauvit is a very modest man but he is highly regarded and held in high esteem by all his colleagues both at home and abroad. He has a wonderful generosity of spirit which has been an inspiration to successive generations of students and academics.
"This honour couldn't have happened to a nicer man who I am very proud to have as a colleague."
The British Academy's newest cohort of Fellows, including Professor Broun, span a wide geographic range, elected from 23 institutions. Twenty overseas scholars, known as Corresponding Fellows, were elected from overseas universities in Uganda, the United States, France, Germany, Austria and the Netherlands.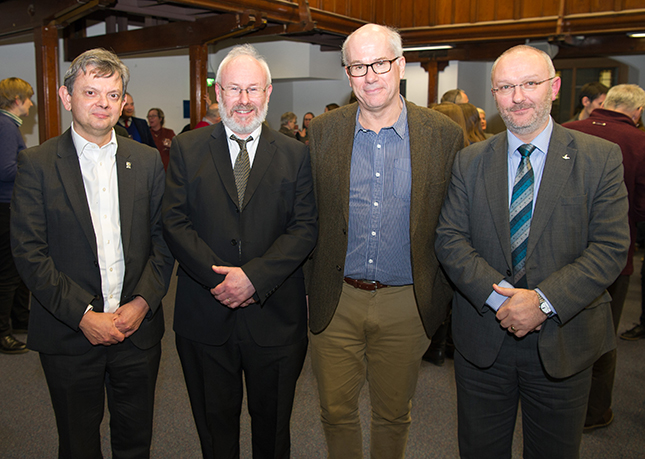 ---