UofG hosts a BBC Radio 4 'first'
Issued: Tue, 14 Nov 2017 09:00:00 GMT
Students at UofG witnessed the first live broadcast of BBC Radio 4's legendary In Our Time outside of London as it marked the beginning of its 20th series discussing the Picts on Thursday 9 November 2017 at the Memorial Chapel.
This was the first time veteran broadcaster and writer Melvyn Bragg had hosted the show outside of London and decided to invite a student-only audience at UofG due to the show's growing popularity amongst younger listeners.
Excited students getting ready to be part of the audience for @BBCInOurTime at UofG - it's the first ever broadcast outside of the studio! pic.twitter.com/zLEAiIvhgI

— Uni of Glasgow (@UofGlasgow) November 9, 2017
Speaking to the audience ahead of the programme Bragg said: "This is the first time in the 20 years of doing this programme that we've been out of the studio. This is because we get an amazing response to In Our Time from people of your age.
"I talked to the Head of Radio 4 to say, 'let's make what we do more visible and see what happens.' That's why we are here today."
Melvyn Bragg and the guests have arrived at the UofG Chapel for @BBCInOurTime - tune in now! pic.twitter.com/Yv402HlhCz

— Uni of Glasgow (@UofGlasgow) November 9, 2017
He was joined by Katherine Forsyth, Alex Woolf and Gordon Noble – a trio of academics from Scottish universities, all specialising in the Picts.
‌‌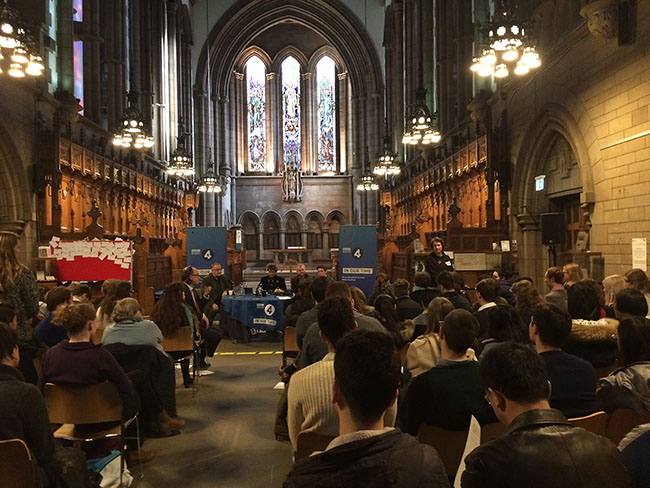 An eager audience listened as the table of four delved into conversation on the myths surrounding Pictish culture and recent archaeological discoveries whilst appreciating Pictish art featured in the Chapel.
.@morantango of @UofGArts talks about being a guest on @BBCInOurTime - 'nerve wracking but fun' pic.twitter.com/o5UtRwz6c9

— Uni of Glasgow (@UofGlasgow) November 9, 2017
In Our Time airs weekly on BBC Radio 4 and attempts to answer the nation's curiosities by way of a 45-minute conversation with scholars studying a huge variety of subject matter.
Since the inaugural episode in 1998, discussions have ranged from the theories behind Nuclear Fusion to the very notion of consciousness. The show now boasts a weekly audience of up to 2 million people.
Bragg said: "This is really just about giving people a particularly brilliant opportunity to learn about something different, something that gives them access to a group of extraordinarily engaging people who are focused entirely on one particular subject.
"In Our Time has inclined people to look into the vast and unlimited expanse of knowledge that lies out there."
---