Kelvin Hall taking shape
The £35m redevelopment of one of Glasgow's most famous landmarks is taking shape and on target for completion, but what will the University of Glasgow's new teaching and learning facilites mean for students?‌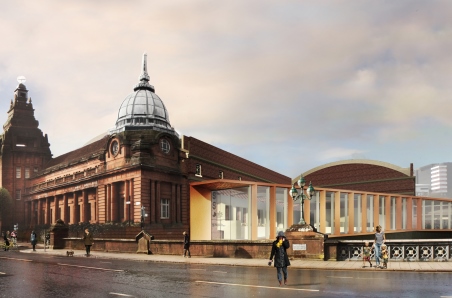 The iconic Kelvin hall, former sports arena and home to the Museum of Transport, is being transformed into one of the biggest museum and academic research centres in the UK.
It will also house a public sporting and museums facility, as well as providing access to the National Library of Scotland's Moving Image Archive and digital collections.
Phase 1 of the redevelopment is due to be completed by the summer, and is expected to officially open in the Autumn.
What will kelvin Hall mean for students?
For the new intake of students at the University of Glasgow in September, Kelvin Hall will offer an array of new postgraduate courses and state-of-the-art research and study areas, and the opportunity to work more closely with the university's collections, inlcuidng the Hunterian.
The Hunterian Museum will house its new collection study and research facilities, with space for more than 1.5 million items, many of which have never been on public display and are currently stored in nine separate storage facilities around the city. Students will have full access to the Hunterian collection and all that it offers for research purposes.
Brittany Scarfe, a University of Glasgow postgraduate currently working as a catalogue assistant at the Hunterian, said the new research and study facilities will offer students a unique hands-on learning experience.
She said: "There are going to be libraries and archives and a conservation room so I think that is something students are very eager for."
Professor Murray Pittock, Pro Vice-Principal of the University of Glasgow, said: "Kelvin Hall will help students wanting to study at the University of Glasgow to engage through the many objects housed at Kelvin Hall, it will enable postgraduate students to train using direct access to collections and the new digital portal, with more than 200,000 images which can be utilised for research purposes. It will be a world leading facility and is excellence available to all."
The university's new facilities and courses have aleady attracted interest from a wide range of organisations cross the world from Christie's Education, via the Re-Enlightenment project based in New York but with hubs in Cambridge and London, and contributed to the Memorandum of Understanding which was signed between the University of Glasgow and the Smithsonian in April.
Professor David Gaimster, Director of the Hunterian, said: "The Kelvin Hall Phase 1 project is going to enable us to bring together all of our collections, 1.5 million objects and specimens, that are now in nine different storage facilities which are very inaccessible, and bring this incredible asset dating back to The Enlightenment, and not only create new access for educational audiences including the University of Glasgow but also connect collections which have been entirely fragmented for more than 200 years.
"For The Hunterian, Phase 1 of the development is the foothold and should give us the business case to eventually create a new Hunterian in the next few years as part of Phase 2. In the meantime, The Hunterian public galleries will remain where they currently are."
Professor Murray Pittock, added: "Kelvin Hall is a hugely exciting and unique project which brings together for the first time anywhere in the world civic organisations, higher education and national organisations under one roof.
Kelvin Hall unites several national organisations under the one roof: the University of Glasgow; The Hunterian; Glasgow Life (Museums and Sport); and the National Library of Scotland. Glasgow Museums, with 400,000 objects, and Glasgow Sports will provide open public access to its collections and high-tech sporting facilities, while at the National Library of Scotland visitors will be able to experience 100 years of Scotland's film history in addition to many highlights from the digital collections.
---
First published: 16 May 2016