Student Profile - Anthony Farmer
Issued: Mon, 24 Jul 2017 09:30:00 BST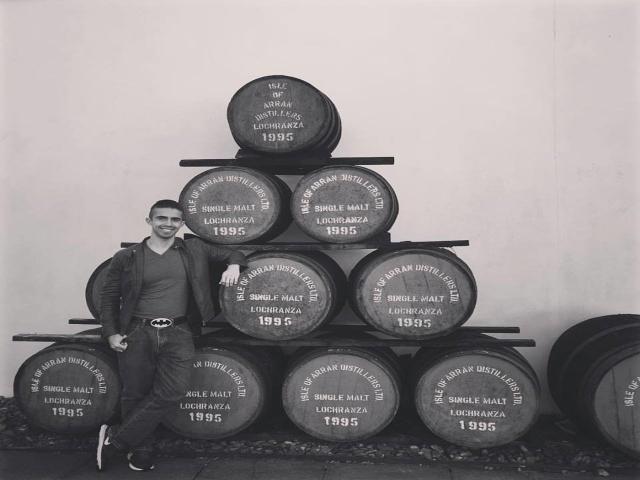 Anthony Farmer of the University of Wyoming, who studied with us in the Fall semester of session 2017-18, pictured on a personal outing to the Scottish Isle of Arran.
‌I chose to go to Glasgow because there was something about the culture that captivated me. It was a land steeped in history, and teeming with diversity. I am so glad that I trusted my instincts, because my time in Glasgow was one of the best and most transformative experiences of my life. The city itself was a highlight. I met so many friendly locals. They told me all about the hidden gems of the city. They showed me the magic of Haggis burgers and deep fried Mars bars. Even when the infamous Glaswegian accent made it hard for us to communicate, the people of Glasgow were nothing but kindhearted and welcoming. As the city's slogan says — People Make Glasgow!
I also had the distinct pleasure of studying at the University of Glasgow. This was the school in which Adam Smith, the founder of economic thought, wrote his seminal theories. My time at the University surpassed all expectations. I learned from some of the top professors in the world, and I was able to take speciality courses that I would never have had access to back home. The Principia Consortium was an academic's dream.
Of course, no study abroad experience is complete without a good bit of adventure! Glasgow was the perfect base camp from which I got to explore all of Europe, but the highlands of Scotland truly stole my heart. From scenic Glencoe to the captivating Isle of Skye, the wonders never stopped. I made a plethora of international friends along the way. To anyone who might be hesitant to take the leap — go to Scotland. There is no other place on earth quite like it. I will be forever grateful for my time in Glasgow!
---