Principia at the University
Issued: Tue, 13 Dec 2016 09:00:00 GMT
‌‌
Glasgow University

Each newsletter, we look at some of the classes taught to Principia students at Glasgow and some of the staff involved with the Consortium. In this edition, we hear from Dr. Ronnie Young of Scottish Literature at Glasgow, who convenes the core Scottish Enlightenment class taken by all Principia students.
The 'honors at Glasgow' study abroad programme established at Glasgow for Principia students is now in its eighth year and a well-established part of the University's international profile. At the heart of the Principia programme is the class 'Scottish Enlightenment: Ideas and Influences', a bespoke course run exclusively for Principia students aimed at bringing them together and teaching them about the rich intellectual heritage of Scotland.
'The Scottish Enlightenment' is an interdisciplinary course designed in close co-operation with US partners and taught by a range of experts from different disciplines across the University, in a way that, we hope, chimes with the 'liberal arts' tradition of US education. In class, students learn about some of the great figures Scotland produced during the 18th century, such as Adam Smith and James Watt (who were both employed here at the University during the period), and Scotland's contribution to global thought in areas as diverse as philosophy, political and social thought, economics, science and medicine, and art and literature.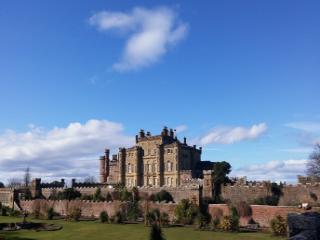 Culzean Castle
The course runs twice yearly for each intake of students from the consortium. We also run a twice yearly field trip to scenic Alloway, home of Scotland's national poet Robert Burns, and Culzean Castle, a romantic and picturesque location on the west coast of Scotland designed by Robert Adam, one of Britain's leading Enlightenment architects. While here, Principia students also take part in an extra-curricular programme of trips and outings. It's also gratifying to see the majority of our students ranging more widely, and spending their time off travelling around Scotland, the rest of the UK and even Europe while they are studying with us, from Loch Ness and Skye, to London, Dublin, Paris, Rome and other European destinations.
It's also a pleasure to receive new US students on the programme, to hear about their own backgrounds, and to teach them a bit more about Scottish culture and how it links with their own nation's history. Scotland had very strong links with North America during the Enlightenment - including a developed trade in Tobacco on which Glasgow prospered - and a significant impact on areas of American culture from politics to education. Hopefully, we in the Principia Consortium are all, in our own small way, carrying on that rich tradition of intellectual and cultural exchange.
---