Student Profile - Dilpreet Kaur
Issued: Fri, 10 Feb 2017 09:00:00 GMT
‌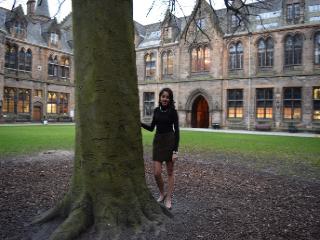 Our profile this edition is from Dilpreet Kaur, who came to study with us from our partner Canisius College in Buffalo New York in the Spring of 2016.


Name: Dilpreet Kaur
Home Institution: Canisius College at Buffalo, NY
Year: 3rd year (2nd Semester Junior)
Study: Pre-medical and All-College Honors Program
Major: Biology
Minor: Neuroscience
Traveling has always been a passion for me. Study abroad, however, has exposed me to foreign lands and people that I will cherish for the rest of my life. Since my arrival in Glasgow, I was immediately exposed to the loving people of this amazing city and immersed into everything the community had to offer. Essentially a privilege, I was able to learn from highly qualified faculty and broaden my academic horizons at the University. As an aspiring future doctor, I was even able to partake in a medical school level gross anatomy course specifically designed for US pre-medical students. I am truly proud to be known as an alum of such a prestigious institution.
Despite being located in the heart of a bustling city, students are provided an intimate niche to develop and prosper during their time in Scotland. Commuting throughout the city was a thrill as I was able to meet new people from all walks of life and never feel out of place or unsafe. Whether it be a quaint afternoon in the Kelvingrove Park watching the sunset or a crazy sub crawl with locals and my new friends, I have made memories to last a lifetime.
With my new stamp in my passport, and increased friends on Facebook and contacts, I have fallen in love with everything this the Scotland had to offer. As I reflect upon my experiences, I realize that I have left a significant piece of my heart behind in Glasgow. These past five months have transformed who I am and I wouldn't trade that for anything.
---