Quick Links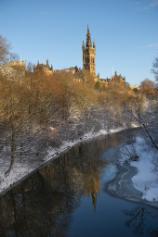 About the Principia Consortium
The Principia Consortium is a group of select US Colleges and Universities who have collaborated with the University of Glasgow to offer students enrolled in their Honors programmes a unique international Study Abroad opportunity at the University of Glasgow.
Students will follow a special honors course designed specifically for the Principia Consortium, Scottish Enlightenment: Ideas and Influences. The course aims to introduce students to the rich intellectual and cultural heritage of Scotland and its lasting influence on world culture and contemporary thought. It is a compulsory course designed to complement the different choices available to Consortium students who study honors at Glasgow and is taught by academics from a variety of disciplines at the University – including Natural History, Philosophy, Politics, Economics, Natural Science, Literature, Medicine and the Arts.
In addition to the Scottish Enlightenment course, students will register for 2-3 more courses during the semester at Glasgow. In addition to having access to any available course at the University, there are also several unique courses available to Principia Consortium students.
I was one of the first two students from my home university to come over to Glasgow. Harking from such a small town, the programme was just what I needed to get into the city and the culture - the small group along with the interdisciplinary focus was perfect for me... The course trip was intriguing and memorable.
As for my social life during the term the West End and City Centre of Glasgow caught my heart. The friendliness of the people, the general atmosphere during the days and nights, and the sheer bulk of new places and things to explore made my four months in Glasgow an indispensable and unforgettable experience...The city's fantastic music scene, the truly lovely people I have met and become close friends with, and the ease of travel to the rest of the country had to be my favourite aspects of my time in Glasgow."
Emily
McDaniel College (Semester 1)
These unique offerings include:
• Functional Anatomy for Pre-Med/Pre-Health
Students
• Science Courses including: Biochemistry,
Biology, Organic Chemistry and Physics
• Education Courses and Short-term
Placements
• Service Learning
• Medical Humanities
• Nursing and Veterinary Biosciences
The University of Glasgow also has special relationships with the Glasgow School of Art and the National Piping Center so students can follow certain courses at either of those institutions in addition to university courses.
The University of Glasgow also runs a special series of extra-curricular events just for Principia Students, including outings to different parts of Scotland.
Quick Links