Partnership agreement sees University open office in Singapore
Issued: Wed, 26 Jan 2011 14:51:00 GMT
The University of Glasgow has signed an agreement with the Singapore Institute of Technology (SIT) to deliver joint mechanical design engineering and mechatronics programmes.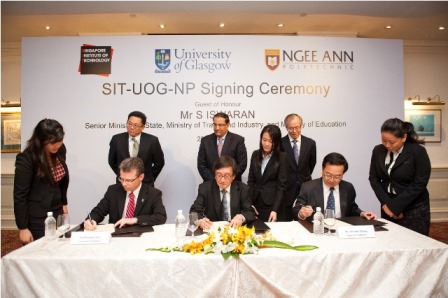 The agreement will see Glasgow open an office in the city-state with five permanent staff supporting around 320 students every year and will involve students completing three years at one of SIT's partner polytechnics before finishing their studies at University of Glasgow Singapore. The University of Glasgow will assess programmes and award degrees.
Professor Anton Muscatelli, Principal & Vice-Chancellor of the University of Glasgow, said: "This is an excellent partnership agreement which enhances the offerings of both Glasgow and SIT and will attract the best engineering students.
"This collaboration offers some real benefits to both institutions. It provides unique student exchange opportunities, industry collaborations and the chance for Glasgow to showcase its world-class teaching and research."
Prof Tan Chin Tiong, SIT President, said: "SIT is committed to expanding our programme offerings and partner reputable overseas universities which are leaders in their fields of specialisation.
"Coupled with our unique education model, this commitment underscores our dedication to ensure that our graduates are relevant, prepared and an integral part of Singapore's growth."
SIT was established in 2009 by the Singapore Ministry of Education to expand Honours degree level provision in line with government policy to increase the percentage of students attending universities from 20 to 30 per cent.
The University of Glasgow's office will be located in Ngee Ann polytechnic, one of the oldest and most-respected polytechnic in Singapore and admissions open on 1 February.
---
For more information contact Stuart Forsyth in the University of Glasgow Media Relations Office on 0141 330 4831 or email stuart.forsyth@glasgow.ac.uk
Notes to Editors
For more information about Singapore Institute of Technology visit www.SingaporeTech.edu.sg