Our presence in Singapore
Our presence in Singapore
Our first students from Singapore arrived in 1947 to study Medicine and Science. Since then many Singaporean students have come to the University and studied a range of subjects including Engineering, Computing Science, Software Engineering, Medicine, Dentistry, Veterinary Science and Biomedical Sciences. The University has a Singapore Student Society and there are currently around 50 students from Singapore studying at Glasgow and an alumni of about 1400 members.
Raffles Hotel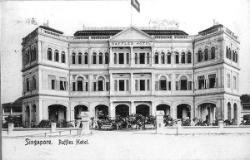 The historic Raffles Hotel was designed and built by Swan and MacLaren, the first professional architects to arrive in Singapore in the 19th Century. Archibald Swan, the founding partner, was a graduate from Glasgow University in 1877. The stately iron railings for the hotel's verandas also came from Glasgow, and were designed by Walter Macfarlane & Co, one of the most important Scottish manufacturers of ornamental ironwork and street furniture at the time.
Cavenagh Bridge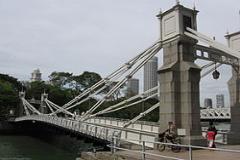 Built in 1869 to link the Civic District on the North Bank with the Commercial District on the South Bank, this is the oldest bridge along the Singapore River in its original form. It is also the first steel suspension bridge in Singapore. The bridge was also built by architects Swan & Maclaren. Other notable buildings built by the firm includes Victorial Theatre & Concert Hall, St. Andrew's Cathedral, and Goodwood Park Hotel.
Tigers in the Park: A New Project in Singapore
The Adam Park Project (TAPP) is a ground breaking battlefield archaeology project looking into the wartime heritage of the Adam Park housing estate in Singapore. It is headed up by the Singapore Heritage Society and the National University of Singapore and partly sponsored by the National Heritage Board of Singapore.