The First Graduation ceremony for Glasgow-Nankai Joint Graduate School
The Universities celebrated the graduation of the first cohorts of students to achieve dual Masters degrees at the Joint Graduate School in Tianjin, China.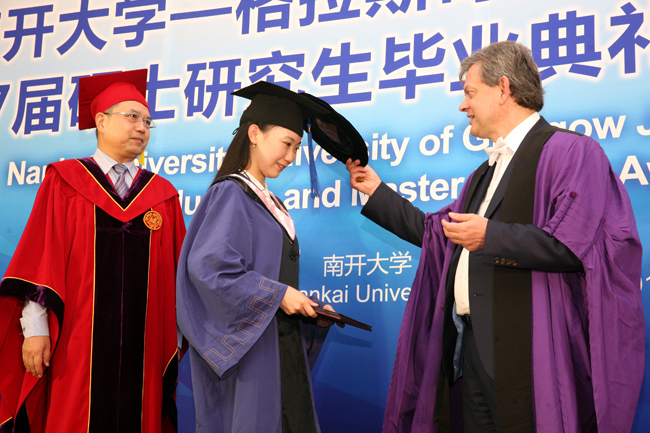 The Joint Graduate School is the first postgraduate higher education programme to be set up on a Chinese university campus in partnership with a UK institution.
Professor Sir Anton Muscatelli, Principal and Vice-Chancellor of the University of Glasgow, said: "Building long-term, mutually-beneficial partnerships in China is a key part of our internationalisation strategy, and increasing our transnational education provision is an important element of that. The graduation ceremony marked an important stage in our burgeoning relationship with one of China's most respected universities. Both graduation ceremonies were a joyous celebration of the achievements, hard work and dedication of these students who were a credit to their families and teachers. It was a pleasure and an honour to share these happy occasions with our new alumni."
On June 26, the University of Glasgow-Nankai University Joint Graduate School - hosted the graduation ceremony for the first cohort of postgraduate students to complete dual-degree MSc programmes. Nankai is one of China's top universities, ranked 10th in China in the QS world rankings and is a long term partner for Glasgow. ‌
The two-year programmes – MSc degrees in International Relations, Environmental Management, and Urban and Regional Planning - began in September 2015. A total of 29 students graduated in the first cohort; many have already lined up good jobs and attribute their employability to their Masters degrees.
A new Masters programme – MA Translation Studies – will be launched in September 2017. Nankai University and the University of Glasgow also signed an MoU agreement to open up the JGS to international students, including Glasgow graduates, in future, thus enhancing the School's position as a leading model of TNE (Transnational Education).
Find out more
---
Media enquiries: liz.buie@glasgow.ac.uk / 0141 330 2702
First published: 9 August 2017