Dr Greti-Iulia Ivana
Lecturer in Digital Society (Sociology)
Biography
Dr. Greti-Iulia Ivana is a lecturer in Digital Society within the Sociology Subject Area at the University of Glasgow. She is also a core member of the Digital and Social Change research group, an interdisciplinary network of scholars who investigate the emergence and uses of digital technologies, as well as their implications for reshaping social realities.
A relational sociologist, Dr. Ivana is the author of the book Social Ties in Online Networking (Palgrave 2018), which looks at the links between non-copresence, online communication and bond formation/maintenance.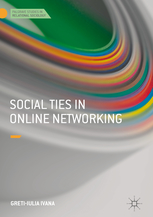 Some of the main themes in Dr. Ivana's previous work are: negotiations of norms and boundaries in personal ties, physical and relational distance, virtual experiences of togetherness and digitally mediated meaning making.
Previously, Dr. Ivana was a based at the Department of Sociology in Uppsala University. She holds a PhD with the highest distinction in Information and Knowledge Society from the Internet Interdisciplinary Institute (IN3-UOC) in Barcelona.
Research interests
Dr. Ivana currently works on a project exploring the relational incentives and constraints which fuel work-motivated intra-european migration. The aim of this project is to shed light on a) future intentions of settlement or serial/circular migration of highly skilled Romanian migrants living in several Western European countries, and b) the personal bonds of these migrants, both copresent and physically dispersed. Within this framework, the role of new technological affordances in transnational lives is discussed at length.
Some of the main areas in which Dr. Ivana's work is anchored are:
social phenomenology
sociological biographies
the digital transformation of bonds
highly skilled migration
transnational work-life systems
Supervision
I am interested in supervising projects on:
social theory

the sociology of everyday life

qualitative network analysis

skilled migration/ labour migration

social media and user generated content

virtual and/or augmented reality
Additional information
Recent presentations
09/2018 "Media consumption and the lived experience of other people's narratives", at the "Dis / connection: Conflicts, Activism and Reciprocity Online and Beyond", Uppsala University
07/2018 "Migrants' emotional geographies and the resistance of the material world", at the 19th Nordic Migration Research Conference 2018, Linköping University, Norrköping Campus
11/2017 "Bonds and Balance in the Lives of Highly Skilled Migrants", invited talk at CESSMIR, the Centre for the Social Study of Migration and Refugees, University of Ghent
09/2017 "Highly Skilled Migration: Social Bonds and Subtle Othering", Postcolonial Studies Association Convention, School of Advanced Study, London, 18–20 September
08/2017 "The Migrant Body and What Makes a Stranger", The European Sociological Association, Athens
11/2015 "Meaning: Between Reflexivity and Emotions", at the "Culture and The Sociology of Knowledge" research colloquium, University of Konstanz
08/2015 "Mediatization: The Socially Constructed Experience of Being Told a Story", The European Sociological Association, Prague