Dr Georgios Karyotis
Senior Lecturer in International Relations (Politics)
Biography
Georgios Karyotis joined the School of Social and Political Sciences in June 2013, having previously worked at the University of Strathclyde since 2004. He holds a PhD in International Security from the University of Edinburgh (2005), an MSc by Research in Politics from the same institution (2000), and a BA in International and European Studies from Panteion University, Athens (1999). He is the Secretary of the Greek Politics Specialist Group (GPSG) of the Political Studies Association (PSA) and his main research and teaching interests lie in the areas of international security theory, international relations, austerity politics and migration.
Research interests
Dr Karyotis' current research efforts could be grouped into three main areas. The first, concerns the conceptual and methodological development of securitisation theory. Among others, he is proposing an extension of the theory beyond its typically qualitative evaluations to explore how audiences interpret political cues about the presence of a perceived threat though mixed methods. He is also developing a new framework, drawing on social psychology, to analyse elite-audience interactions in experimental ways, as well as a new conceptual model to evaluate when a securitisation attempt has been successful or not and its implications. For related work, see: https://glasgow.academia.edu/GeorgiosKaryotis.
The second area concerns austerity politics. Funded by the British Academy, Dr Karyotis is running a project analysing protest, vote choice and political behaviour in Greece and is preparing for further collaborative work in this area in a comparative context. Among others, he has co-edited a book on The Politics of Extreme Austerity: Greece in the Eurozone Crisis, to be published by Palgrave Macmillan in March 2015. Further details and outputs can be found in the project's webpage: www.AusterityPolitics.net.
A third area of research focuses on specific policy issues and particularly on migration. His interest in migration is linked to aspects of agenda setting, as well as intended and unintended policy outcomes. Funded by the Carnegie Trust, a related project looks at the lived experiences and protest action of migrants in Greece.
Supervision
Dr Karyotis is interested in supervising any high-quality PhD topic related to his research interests, particularly in the three areas identified above.
Teaching
Convenor
Politics 2b: International Relations (second year)
Securitisation and the New Security Agenda (Honours)
Challenges in Global Politics (Postgraduate)
Additional information
Dr Karyotis is PGT Convenor for the School of Social & Political Sciences.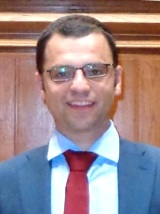 Adam Smith Building, Room 1306,