Support scheme for rape victims is praised in evaluation report
Issued: Thu, 07 May 2015 16:20:00 BST
A 24-hour advocacy support service for victims and survivors of rape was highly valued by those who used it, according to an independent evaluation by researchers from the SCCJR.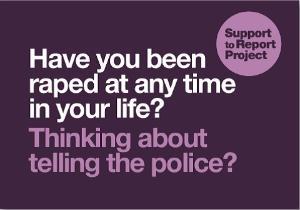 The service – called Support to Report (S2R) – was piloted in Glasgow and is the first of its kind in Scotland. It was launched by Police Scotland and Rape Crisis Scotland with Scottish Government funding in December 2013, with the aim of providing a new model of 24-hour advocacy support to assist male and female victims/survivors at the initial stage of reporting rape to the police.
An evaluation of the service by Dr Oona Brooks and Professor Michele Burman, of the University of Glasgow, found that the provision of advocacy support, particularly in liaising with the police, was highly valued.
"The period following an initial report was described by victims/survivors as being characterised by stress, doubt and uncertainty about what may or may not be happening with their case," said Dr Brooks. "Advocacy support at this stage provided reassurance about the process and a sense of having someone 'by their side' who 'knows what to do'".
"This was particularly valued given that most victims/survivors had little or no prior experience of the criminal justice system This in turn influenced victims'/survivors' ability to continue with the criminal justice process."
---