New staff member: David Tobin
Issued: Fri, 20 Sep 2013 16:39:00 BST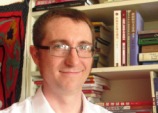 Dr David Tobin joined Politics in September 2013 after working as Lecturer in Politics at the University of Manchester. David conducted his doctoral research at the University of Manchester, with language training at Peking University and Xinjiang Normal University. His PhD thesis is titled 'Nation-Building and Ethnic Boundaries in China's North-West'. This examines how the concept of performativity can be applied to the securitisation of identity in official discourse and the politics of the everyday. The empirical focus is on how the party-state's attempts to deepen integration of Xinjiang and Turkic-speaking Uyghurs into China shape popular responses and resistance to this nation-building project by both Han Chinese and Uyghurs.
Most of David's teaching is focused on the intersection between domestic and international politics using China as the key case study. David is currently converting his thesis into a monograph and writing several journal articles on ethnicity in contemporary China based on long-term ethnographic fieldwork. His next large-scale research project will explore how China's increasingly influential public intellectuals theorise the role of ethnicity in what they see as China's rise to global superpower status.
Research Interests:
International Relations Theory, Social Anthropology, Chinese Studies, Xinjiang, Identity Politics, Nationalism, Ethnicity, Post-Colonial Studies, Post-Structuralism, Globalisation.
---