Taught MSc Programmes Induction on Friday 14 September
Issued: Wed, 05 Sep 2018 05:53:00 BST
Induction date, time and location: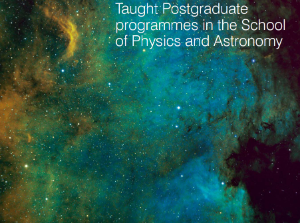 Friday 14th September at 11am in Room 323 of the Kelvin Building (School of Physics and Astronomy), University Avenue, Glasgow, G12 8QQ. B8 on your campus map.
This session will give new Taught MSc students an overview of our MSc courses and of what they can expect, including how to choose the extended MSc project and all major deadlines. This will be followed by a buffet lunch.
New MSc students starting their studies this Semester should get in touch with Dr Nicolas Labrosse - PGT Convenor (nicolas.labrosse@glasgow.ac.uk)
---